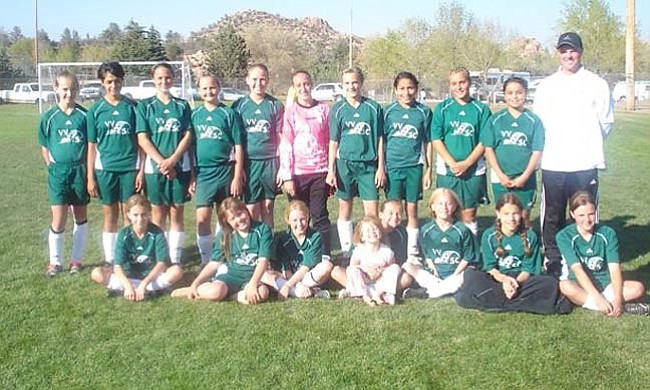 Originally Published: April 26, 2008 4:21 p.m.
Five teams from the Verde Valley Soccer Club headed over to Prescott last weekend to compete in the Mile High Classic. The U-12 Girls Team, the Verde Valley Victory brought home first place metals.
Saturday morning, the girls took the field at 9:30 a.m. to play the Thunder Gold Team from the Arizona Soccer Club, losing the game 2-4.
The Victory came back that afternoon with their game face on to play the Flagstaff United '97 Soccer Club. The team controlled the game and won the game 14-1. Sunday afternoon, the third game of their series the girls took the field and scored a total shutout game against the Tivoli FC Soccer Club beating them 10-0. Coach, Craig Backus switched the team into different positions giving most the team a chance to score.
Sunday afternoon the pressure was on, Victory was going into their last game in the tournament in third place. They were playing the undefeated Firecrackers from the Tanque Verde Soccer Club of Tuscon. If they could pull off a win by three points that would get them a first place win. At half time Victory was down 0-1, after much encouragement from their coach and the spectators the girls took the field and fought hard to get the three points they needed for first place. After the 3rd quarter Victory was up 3-1, in the last few minutes of the game, Nataly Escamilla scored a goal with a header giving the Victory a 4-1 win over the Firecrackers. The team brought home first place metals and a team trophy.
Two weeks prior, the Victory finished third place in the local Castle Classic played in Clarkdale. The team's next tournament play will be in Durango, Colorado May 9-11.
More like this story