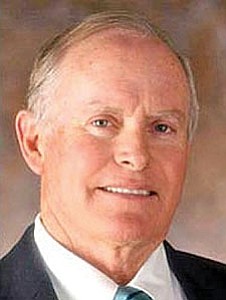 Originally Published: August 28, 2008 6 p.m.
It may come down to the question of who is more "red" and "on what side of the mountain they live": the Verde Valley or Prescott. Those are the issues that have been raised over the Republican nomination for Legislative District 1's Arizona Senate seat, which exclusively represents Yavapai County.
Incumbent Republican lawmaker Tom O'Halleran of Sedona is getting a tough challenge from within the party. Steve Pierce is a former GOP Yavapai County party chairman, long-time rancher and developer from the sprawling Las Vegas Ranch north of Prescott. Pierce has never been elected to public office before but has been affiliated with a number of ranching related organizations and community organizations. But, some party loyalists, especially from the Prescott area, believe he can do a better job.
O'Halleran of Sedona is wrapping up his first term as Arizona state senator from District 1, but if may be his last if conservatives have their way. They have challenged O'Halleran's loyalty and commitment to the "party values." Now, they are asking voters to endorse a candidate who will toe the line. Both names are on the Sept. 2 ballot. The only Democrat in the race is Pat Chancerelle of Prescott, a write-in during the Primary.
O'Halleran has spent six years in the Arizona State House, before winning a term in the Senate seat in the district. The seat was formerly held by Ken Bennett, who as a loyal Republican rose to the position of Senate president. Bennett and another former senator from Prescott, now Yavapai County Supervisor Carol Springer, are now counted among Pierce endorsements along with congressmen John Shadegg and Jeff Flake, council members from Prescott, Prescott Valley and Republican organizations, including the Sedona Verde Valley Republican Club and the Mingus Mountain Republican Club.
Before moving to Arizona, O'Halleran was a director with the Chicago Board of Trade and an officer with the Chicago Police Department.
Today he chairs the legislature's Higher Education Committee, vice-chairs its Health Committee, and is a member of the K-12 Education Committee.
O'Halleran is an authority on water issues and is a member of the Arizona State Water Advisory Group and the Western States Water Council. He has sponsored much legislation to monitor and protect water resources.
A former police sergeant, O'Halleran supports gun owners' rights and strong law enforcement. He has been given a perfect score by the NRA.
He is an advocate of lower taxes and lists his votes on his Web site of $2.7 billion worth of tax cuts. That, however, is one of the areas he is challenged.
O'Halleran was one of two Republicans who voted against the permanent repeal of the state equalization property tax and was one of four Senate Republicans who supported the fiscal year 2009 budget that a majority of the Republican caucus had rejected.
O'Halleran contends that a dialogue is important to the successful business of lawmaking and says he will not "automatically" give the Republican leadership his vote.
The incumbent has been a champion of K-12 education and increased public health dollars. O'Halleran is proud of accomplishments in raising teacher salaries, getting all-day kindergarten implemented into schools, raising math and science education levels, as well as creating the first statewide programs regarding water conservation, water management, and drought protection plans.
Pierce takes a strong stand for immigration reform, lowering taxes, Property Rights, School Choice, Improving Roads and Modernizing Forest Management. He has said that District 1 "deserves better" and more local control. He believes that water is one of those issues that should be controlled locally with fewer rules.
He has served on the Board of Directors of County Bank, the Anasazi Foundation and the Central Arizona Partnership. Steve is active with the Yavapai County Republican Party, where he was elected as Chairman, and has been elected to the State Executive Committee for the Arizona Republican Party for the last five years.
This is an expensive campaign. According to the finance reports filed with the Secretary of State, Pierce has dumped a lot of money into his own campaign, $206,000 to date. O'Halleran personally contributed $25,000. Both have received nearly identical amounts of contributions from individual donors other than themselves, about $57,000.
Verde Valley voters have had little chance to see Pierce and O'Halleran on the same stage. Asked to attend a recent forum of the League of Women Voters, Pierce bowed out to instead attend the Arizona Cowboy Poets Gathering, though O'Halleran did attend. Pierce's office also would not return calls to the Northern Arizona Interfaith Council to schedule public forums.