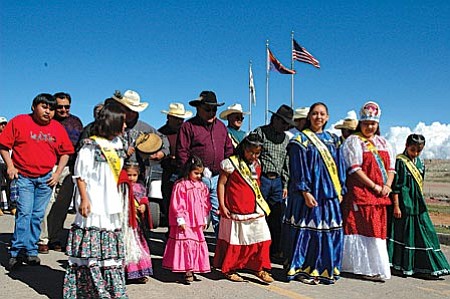 Originally Published: February 19, 2008 2:45 p.m.
On Feb. 23 the Yavapai-Apache Nation will commemorate what amounts to the all-time low point of Anglo-Indian relations in the Verde Valley.
It is not the commemoration of the tragedy itself, so much as it is a time to honor those who survived.
On Feb. 27, 1875, 1,476 Yavapai and Apache men, women and children began a 180-mile forced march from their fertile reservation in the Verde Valley to a desolate [piece of desert outside San Carlos.
They were forced to make the trip in the dead of winter in the dead of winter.
They were being expelled from reservation lands in the Verde Valley that had been set aside just three and a half years earlier. The land had been deemed too valuable to be left to Indians.
By the time the families arrived at San Carlos their numbers had dropped to 1,361. Twenty-five of the missing arrived later by wagon, but many had died of exposure and old age.
Some had simply wandered off, risking starvation over imprisonment.
Most of those who made it safely to San Carlos would never return to the Verde Valley.
However, starting sometime around the turn of the century, Yavapai and Apache families and individuals began wandering back to the Verde Valley, returning as they had left--on foot.
Today the Yavapai-Apache Nation refers to the event as the "1875 Removal-1900 Return Commemoration."
The event, formerly known as Exodus, will be held in Camp Verde at the Yavapai-Apache Nation Veterans Memorial Park, located below Cliff Castle Casino, at exit 289 off Interstate 17.
Various activities will also take place at other nearby locations. Traditional song and dances, the Miss Yavapai-Apache Pageant, a commemorative walk, the Spirit Walk, food, and arts and crafts are a few of the highlights of this colorful celebration.
Yavapai-Apache Nation Chairman Thomas Beauty welcomes all to share and learn about this historic event that is part of the lives of Yavapai-Apache people today.
More like this story