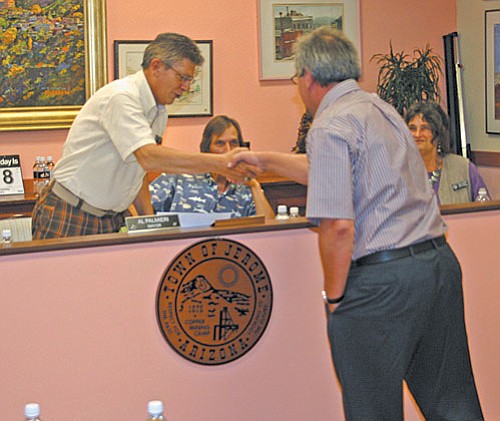 Originally Published: July 10, 2008 4:52 p.m.
From now on, once a motion has been put before the Jerome Town Council and seconded, discussion will be limited to council members and anyone they may address. Public discussion will still be allowed before a motion is made.
That's the way it's done elsewhere.
But not the way it's been done in recent years in Jerome.
During the terms of the past two councils, and following periods of public discussion on an agenda item, after a motion was made another period of public discussion - sometimes upwards of an hour - would unfold before the council members would give their thumbs up or thumbs down.
Typically with governing bodies, such as town councils and school boards, no more public input is accepted once a motion is made, unless specifically asked for by the members of the board or council.
"The final discussion is between the council members and anyone they ask a question of," said Mayor Al Palmieri.
Other procedure changes put in place during the council's scheduled meeting Tuesday night have to do with the agenda and public comment.
All persons addressing the council must approach the podium and state their name. Due to state law protecting against releasing identifiable information, speakers no longer will provide their address.
Agenda items must be presented to the town clerk no later than the Tuesday preceding the regular meeting scheduled for the following Tuesday. The agenda will be closed at noon on the Tuesday preceding the meeting. Council packets will be prepared the Wednesday prior to the regular meeting and made available by 5 p.m. that day. This procedure is being put in place to give council members, staff and interested persons almost a full week to review the agenda and packet contents.
"To get something on the agenda it takes just two council members," Palmieri said. He said the council and staff is going to stick to the town code, which states, "All information comes in the Tuesday prior to the council meeting."
Another procedure is designed to keep meetings to a manageable length.
"If the agenda looks long, council (members) can continue individual items as necessary," Palmieri said.
In another matter, the council introduced Gary McConnell as the new town manager. The council then approved a motion to officially appoint him to the position of town manager.