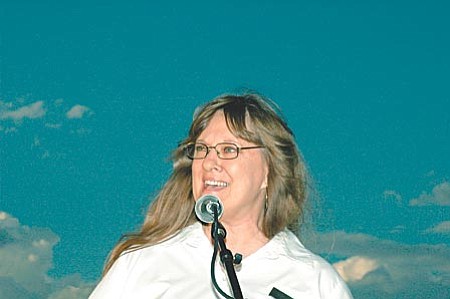 Originally Published: May 8, 2008 4:56 p.m.
The Cottonwood City Council came away lukewarm from a discussion on a Bridgeport annexation. No one was on hand to support the addition of a few lots to the city boundaries. But, the council heard loud and clearly from Bridgeport residents who want the city to stay away from the rural area.
A man made the proposal while buying a piece of property to build a bed and breakfast near South Mingus View Drive and the Cottonwood Ditch. The land was re-zoned for a 'planned area development' by Yavapai County years ago, but Bill McArthur also wants city services.
Community Development Director George Gehlert described the ditch as a "Mason-Dixon line" that divides the incorporated from the unincorporated.
The council earlier advised the community development department to survey other property owners surrounding McArthur's property who were also interested. A survey resulted in a few more players, but tended to stir up anti-annexation feelings among other surrounding residents.
Huel Chen asked, "Who is going to benefit? The area is really quiet. The only people who would benefit are businesses."
David Mongini also asked, "Who would want to be in the city?" He said neither he nor his father would support including the Bridgeport properties.
Others who spoke suggested Bridgeport's forest of Cottonwood trees would be razed to make way for more shops.
Duane Kirby, who once opposed annexation in Bridgeport felt, "It would be a shame to change all that because one person wants in."
Terrance Pratt told the council, "I would vote 'no'."
Tim Elinski agreed with Kirby and Pratt, "If it (Bridgeport) comes into the city, we should maintain the trees."
The vocal opposition to the city brought something of a backlash from the mayor and others. Karen Pfeifer told the small crowd, "I am tired of people attacking me for taxes when they can't vote."
Diane Joens was upbeat saying, "There are a lot of cool things about Cottonwood." When people want shopping, entertainment or recreation, they come into the city.
Under Arizona state law, an annexing municipality must provide services within 10 years of bringing in the additional land, according to Community Development director.
The council took no formal action on the "update" discussion.
More like this story