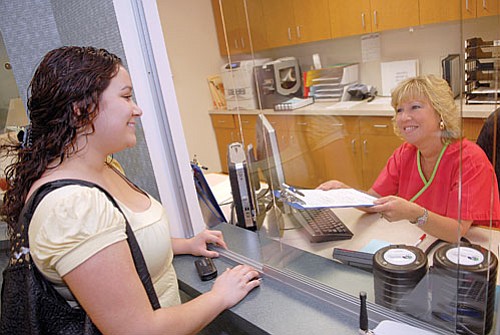 Originally Published: October 2, 2008 7:04 p.m.
The Medical Imaging Department at VVMC has a new home on the first floor of the new four-story east addition on Willard Street. This relocation allows increased technology and capabilities.
A state-of-the-art Imaging department is a vital part of diagnosis and treatment. VVMC's Imaging department is moving toward going completely digital, using the latest computed radiography equipment.
A recent addition is the specialized Picture Archiving Communications System (PACS). PACS are computers or networks dedicated to the storage, retrieval, distribution and presentation of images. The medical images are stored in an independent format.
Through PACS, every image captured at the hospital is stored digitally, and can quickly be transferred anywhere in the world, including physicians' home or clinical offices.
PACS has four main advantages:
replaces hard-copies of medical images such as film archives;
enables practitioners at various physical locations to access the same information simultaneously (teleradiology);
provides capabilities of off-site viewing and reporting which can be used for telediagnosis and distance education; and
provides a growing cost and space advantage over film archives.
Services provided in the Medical Imaging department at VVMC include:
Computed tomography (CT) scan, also called computerized axial tomography (CAT) scan, is a radiology method that creates cross-sectional images, called slices, of structures in the body.
In this procedure, X-rays are taken from many different angles and processed through a computer to produce three-dimensional (3-D) images called tomograms. CT scanners offer the best combination of low radiation exposure and short examination times while maintaining excellent image quality.
CT sees inside your body, into areas that cannot be visualized by standard X-ray examinations. The results of CT allow your physician to diagnose certain diseases earlier and more precisely.
The Siemens Somatom Sensation 64-Slice CT Scan at VVMC offers patients the most powerful CT scanning equipment available outside of research and teaching facilities. Ultra fast scanning, short breath holds and superior image detail with the ability to reconstruct images in any plane or angle.
Magnetic resonance imaging
Magnetic resonance imaging (MRI) uses a large magnet and radio waves to look at organs and structures inside your body. It is an important tool used in many fields of medicine, and is capable of generating a detailed image of any part of the human body. Healthcare professionals use MRI scans to diagnose a variety of conditions, from torn ligaments to tumors. MRIs are very useful for examining the brain and spinal cord.
VVMC has a brand new, only high-field strength MRI in the Verde Valley. The Siemens 1.5 Tesla magnet facilitates state of the art vascular imaging.
Mammography
A mammogram is a special type of X-ray of the breasts. Mammography screening is the single most effective method of early detection of breast cancer. Research shows that annual mammograms lead to early detection of breast cancers, when they are most curable. Mammography plays a central part in early detection because it can show changes in the breast up to two years before a patient or physician can feel them.
VVMC's new Medical Imaging department includes a private and spacious set of suites for women's services, including the mammography suites. With the latest equipment and trained staff, each mammogram is performed by a registered mammographer. Use of the Mammo Soft Pad places a soft, warm, protective surface between the breast and the mammography machine which can significantly increase a woman's comfort during mammography.
Nuclear Medicine
Nuclear medicine procedures allow early detection of disease by using small amounts of radioactive materials, called radiopharmaceuticals, or isotopes, to create images of anatomy. Radiopharmaceuticals are substances that are attracted to specific organs, bones or tissues. They are introduced into the patient's body by injection, swallowing or inhalation. As the radiopharmaceutical travels through the body, it produces radioactive emissions. A special type of camera detects these emissions in the organ, bone or tissue being imaged and then records the information on a computer screen or film.
Nuclear medicine is unique because it documents function as well as structure. For example, nuclear medicine allows physicians to see how a kidney is functioning, not just what it looks like. Most other diagnostic imaging tests, in comparison, reveal only structure. Nuclear medicine procedures are performed to assess the function of nearly every organ. Common nuclear medicine procedures include thyroid studies, brain scans, bone scans, lung scans, cardiac stress tests, and liver and gallbladder procedures. It can locate the presence of infection and can determine the presence or spread of cancer.
Although nuclear medicine is primarily used for diagnosis, it can be used to treat disease as well. Therapeutic uses include treatment of hyperthyroidism and pain relief from certain types of bone cancers. There are more than 100 different nuclear medicine examinations.
PET/CT Scan
PET (positron emission tomography)/CT (computed tomography) is the leading diagnostic tool for many types of cancer, coronary heart disease and neurological problems. PET/CT is one of the most advanced, whole body imaging tools available and is an invaluable clinical test for both adults and children. This technology can provide information that enables physicians to make an earlier diagnosis or to determine if current treatment is working effectively. This capability can translate into faster initiation of the best possible treatment.
In oncology, PET/CT can accurately image multiple organs at the same time to diagnose malignancy and even provide information about whether or not cancer has spread to other parts of the body. In addition to cancer studies, PET/CT examines patients for myocardial infarctions, and looks for reversible damage as opposed to permanent heart damage. PET/CT also is used in neurological studies, investigating brain metabolism in patients with dementia and epilepsy.
Stereotactic Breast Biopsy
Stereotactic technology uses a computer to enable physicians to locate and obtain samples of tissue from inside the breast. It uses "stereo" X-rays (X-rays taken from multiple angles), and special biopsy needle to aspirate or "vacuum" the targeted area containing the suspicious tissue. Local, instead of general anesthetic is used so there is no hospitalization or prolonged recovery time necessary. It is one of the least invasive ways to biopsy breast tissue.
VVMC uses a MammoTest Select Breast Biopsy System from Fischer Imaging, which represents the very best in breast biopsy - superior image quality, better access and maximum patient comfort.
Ultrasound
Ultrasound uses high-frequency sound waves to look at organs and structures inside the body. Healthcare professionals use them to view the heart, blood vessels, kidneys, liver and other organs. During pregnancy, doctors use ultrasound tests to examine the fetus. Unlike X-rays, ultrasound does not involve exposure to radiation. During an ultrasound test, a special technician or doctor moves a device called a transducer over part of your body. The transducer sends out sound waves, which bounce off the tissues inside your body. The transducer also captures the waves that bounce back. Images are created from these sound waves.
VVMC utilizes two ATL 5000 high definition ultrasound units with CT-sonotechnology accompanied by a Nicolet Vasoguard vascular machine offering non-invasive vascular exams.
X-Ray
X-ray technology uses electromagnetic radiation to make images. Healthcare professionals use them to look for broken bones, problems in your lungs and abdomen, and many other problems.The parts of your body appear light or dark due to the different rates that your tissues absorb the X-rays. Calcium in bones absorbs X-rays the most, so bones look white on the radiograph. Fat and other soft tissues absorb less, and look gray. Air absorbs least, so lungs look black.
At VVMC, the Philips multi-diagnostic, G.E. Proteus XR/A, Hologic TM-50 equipment and tomography utilizes digital fluoroscopy, providing state of the art diagnostic capabilities.
Second Floor - Yavapai Unit
This brand new Medical Surgical Unit's primary focus is to provide care to a variety of medical patients. Private rooms now are available to all patients at VVMC and key in the design element of each room was standardization. Evidence-based design has proven that standardization of the patient environment improves patient safety and outcomes. When caregivers go from room to room, and each is laid out similarly with use of the same equipment, it allows attention of the caregiver to be focused on the patient and care giving, leading to improved patient safety.
Third Floor - Shell Space for Future Use
With an eye toward the future, the third floor of the new east addition is currently prepped and ready for future growth and expansion.
Fourth Floor - Perinatal Services
VVMC is looking forward to relocating obstetrical and gynecological services to the fourth floor of the new four-story east addition. Relocation of the Perinatal Services department will allow for the addition of a new C-section suite, including operating and recovery rooms, located right on the unit. Nursing staff members are in the process of cross training to become familiar with scrub and operating room techniques, and learning to circulate in the C-section area to allow for quicker response times in emergency surgeries.
Phase 1 of the relocation will involve the department's actual physical move from its present location to the new suite. Phase II will include expanding services to change the VVMC Nursery status from a Level 1 (providing basic care), to a Level 2 (providing moderately complicated or more intensive care).
The expansion of the Perinatal Services department also will give VVMC the ability to provide women's gynecological surgical services on the same unit. The unit eventually will expand to a total of 14 private beds, with five Labor/Delivery/Recovery rooms. A full-time Perinatal social worker will be available on the unit to provide support, counseling and information services.
New North Addition
First Floor - Telemetry Unit
A Telemetry Unit is a step down unit in which staff care for patients in need of close cardiac, or minimally invasive monitoring as well as patients progressing from critical care to a lower acuity. This unit also serves varied age groups with a mixture of comorbidities (medical conditions existing simultaneously with and usually independently of another medical condition).
This brand new, 20-bed unit of private rooms was specially designed by staff members with patient safety and care in mind. The unit is divided into five sections referred to as pods, in which nurses will be assigned to patients in those specific areas. The nursing stations are located in the center of the unit with patient rooms on both sides. Counter tops are at stand-up height from the inside and outside to allow for a more readily available writing surface, and multiple, movable monitors systems will be located at each nursing station for continuous patient monitoring.
Each patient room has a window, allowing visibility into the room from the nursing station of each pod, and quick, easy access with less walking distance in between. All charting is done directly at the bedside. Four levels of lighting are in every patient room and shower chairs have been placed in every patient bathroom. As with all new patient rooms at VVMC, evidence-based design has proven that standardization of the patient environment improves patient safety and outcomes. When caregivers go from room to room, and each is laid out similarly with use of the same equipment, it allows attention of the caregiver to be focused on the patient and care giving, leading to improved patient safety. The second floor will be shell space for future use.
More like this story