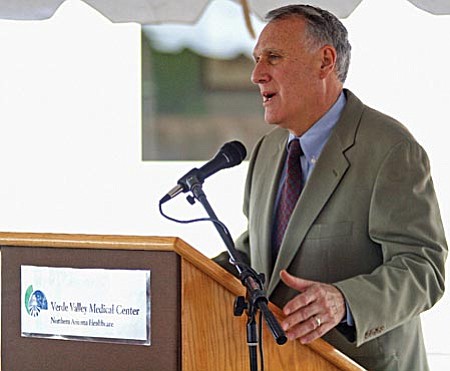 Originally Published: October 11, 2008 3:58 p.m.
The Verde Valley Medical Center held a party for an invited crowd of community leaders and dignitaries to celebrate the opening of the new $35 million expansion of the Medical Center.
Senator Jon Kyl was on hand to help with the celebration. Senator John McCain, currently on the campaign trail, sent a congratulatory letter that was read by President Jack Dempsey.
Kyl, Senator John McCain and former Senator Barry Goldwater have all been involved in various milestones at the Cottonwood hospital over the years.
Hospital Board Chairman Kenneth Moll told the crowd that the hospital has come a long way since the Marcus J. Lawrence Clinic opened in 1939 in what is now Old Town Cottonwood. Planning started five years ago and the groundbreaking for the two new wings was held in November 2006
The current expansion adds 100,000 square feet of new space.
The Inpatient Entrance will become the hospital's main entrance in its new incarnation. The hallway immediately ahead of you is the entrance to the new Yavapai Unit, the second floor of the four-story East Tower.
The unit includes 29 private rooms of the medical-surgery unit. Director Sue Maiden says the high tech recovery rooms are intended for patients who may stay for three or four days after surgery. The single rooms are fully-wired for computer charting, and plugs and ports for various medical equipment.
Three of the units are also plumbed to allow dialysis.
Flat screen TVs are in every room and are also equipped with a sleeper chair for family members.
All imaging equipment has been consolidated on the ground floor: mammography, bone density, ultrasound, nuclear medicine, a new MRI and 64-slice CT scanner.
The fourth floor will be outfitted as an Obstetrics/Perinatal Unit to open next year. It is planned to also be state of the art and include Disneyland style artwork. The third floor is currently "shell" space and has not been planned.
In the two story North Addition is a 19-bed Telemetry Unit will double the number of monitored cardiac beds. There is more unplanned "soft" space on the second floor.
Another 45,000 square feet of the existing hospital will be remodeled as part of the expansion.
More like this story