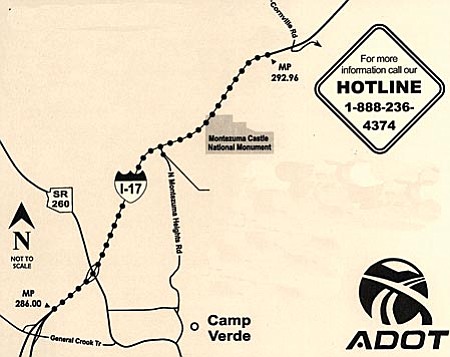 Originally Published: September 11, 2008 3:49 p.m.
Roadwork has begun on resurfacing the southbound lanes of Interstate 17 from the McGuireville interchange (Exit 293) to the General Crook Trail interchange (Exit 286).
This week construction crews milled the high speed lane and paved the west side of Middle Verde Road at the intersection
The project, which is expected to take just over three months, will improve the lanes using rubberized asphalt, and will upgrade guardrails and improve drainage.
The project also includes new pavement, striping, signage and lighting for the roundabout at Middle Verde Road and I-17.
Lane restrictions will be in place and reduced speed limits will be enforced during construction.
In other ADOT news, the U.S. Senate passed the $8 billion Highway Trust Fund bill late Wednesday evening, according to ADOT spokesperson Bill Williams.
However, Williams cautions that the exact details of the funding bill are sketchy and may take some time to sort out
"It's possible the bill may have to go back to the House before the President can sign it. It is a bit fluid at this time," Williams said.
About $8 million from the bill is needed to fund the scheduled improvements to the McGuireville interchange. ADOT put the project on hold recently, pending passage of the bill, and has been postponed once before.
According to Williams, ADOT has received a low bid on the project and, if funding is restored in time, it could be approved at the Sept. 19 Arizona State Transportation Board meeting in Winslow.
The McGuireville project will lengthen the access ramps on one of I-17's most dangerous interchanges. It was scheduled to go to bid later this month.
ADOT has established a hotline at 1-800-236-4374 for any questions regarding the I-17 resurfacing project.
More like this story