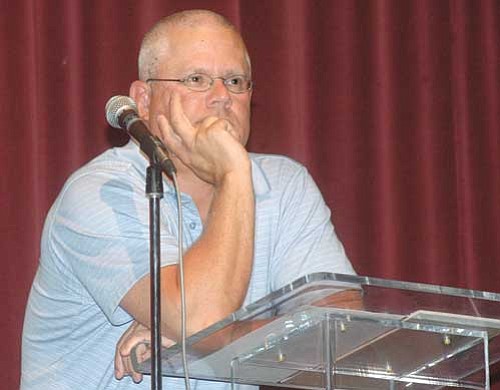 Originally Published: April 4, 2009 4:58 p.m.
The relationship between well owners and water users in the Verde Valley, and the Phoenix-based water giant Salt River Project, is much like oil and water.
Some oil is water-soluble, and therefore compatible. Some is not.
On one hand, Verde Valley water interests appreciate and support SRP's staunch defense of the Verde River, the tenacity with which the utility has fought over pumping of the Big Chino aquifer and its continued support of organizations and events that bring awareness to water issues around the county.
On the other hand, Verde Valley water interests draw the line when it comes to SRP's equally tenacious defense of their historic water usage as they relate to the Verde Valley.
Many local water users would prefer SRP mind its own business and stay out of their way.
SRP argues that is exactly what it is doing, minding its own business.
On Thursday evening, SRP's most familiar face in the Verde Valley, Greg Kornrumph, made yet another visit to the valley to explain his employer's position.
He has been coming to the Verde Valley for a dozen years, serving as a conduit to bring SRP's position to the Verde Valley and returning home with observations and comments from the folks upstream.
"When we take action, we don't want there to be surprises as to what we are doing," Kornrumph says. "My job is to educate folks on the watershed, as to our position -- to get them to understand who we are, how long we have been around and where our interests lie.
"It's a difficult concept to understand why, when a river runs through your neighborhood, why you can't use the water. My job is to explain our perspective, the scientific complexities of water, the foundations of water law and, at the same time, respond to their concerns."
Although Thursday's meeting with the Verde Valley Water Users Association was relatively mellow compared with past meetings, it was obvious the education process is ongoing.
After a brief history of SRP, Kornrumph focused his talk on two issues of importance to the Verde Valley's water users -- SRP's current battle in the Big Chino and the connectivity of ground and surface water as it relates to Verde Valley wells.
Bumped from the administrative hearings related to Prescott's application to pump the Big Chino aquifer, SRP has filed suit, challenging the constitutionality of the law that permits Prescott to import water across basin boundaries.
Although denied a seat at the administrative hearings, SRP has thrown its legal weight behind a couple of residents in the Prescott/Chino Valley area who have a place at the table, fighting Prescott's application.
As easy as it is to explain SRP's Big Chino objections, is just as difficult to explain their objections to so many wells in the Verde Valley. Having to use terms like saturated Holocene alluvium, subflow zone and cone of depression doesn't make it any easier.
"Historically it's been a gray area," Kornrumph admits. "The relationship between groundwater and surface water has been debated and litigated since the 1930s and continues to be one of the most critical issues in the statewide battle over water rights."
SRP is currently fighting three Verde Valley water users in court, over the utility's belief that the water users' "groundwater" wells are drawing from water historically used by SRP from the surface flow of the river.
"About half the wells in the Verde Valley are located in the subflow zone," Kornrumph says. "Some serve lands that have a surface water right. But many do not. It's those wells, serving lands that do have surface water rights, we believe are taking water that does not belong to them.
"The idea that we are going to come up here and take your wells away is just not the case. But at the same time we have historic water usages that must be protected."