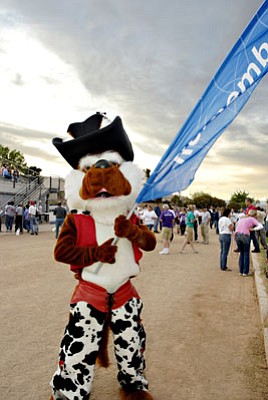 Originally Published: April 25, 2009 8:30 p.m.
Photos by VVN/Jon Pelletier
This year's Relay For Life got underway on Friday at Mingus Union High School with a huge community turnout. The event raises money for the American Cancer Society's research, education, advocacy and patient services. Relay For Life has a special focus on survivors of cancer, as demonstrated by an honorary survivor dinner and opening lap to officially begin the nightlong event. Relay For Life is also about the spirit of celebration; community groups adding to the festive mood included the students of Tae Kwon Do Unlimited and Flip City Gymnastics, the Civil Air Patrol Cadets and the Jumpin' Jammers, among others.
Midway through the evening a Luminaria Ceremony was performed in remembrance of those lost, as well as for hope that a cure for the dreaded for the disease will soon be found.
We started this gallery with photos of our own, however, we know that a lot of people were snapping photos of this event - please click here to share your photos with the rest of the community! Your submitted photos will not appear in our photo store.
Enjoy browsing through these great verdenews.com photos below. If you see any images you would like to purchase as prints or photo gifts, such as mugs, T-shirts, mouse pads, tote bags, etc, click this optional link to visit our online photo store.
More like this story