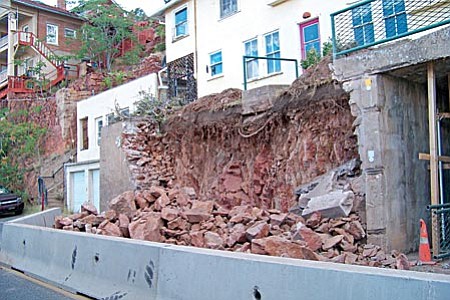 Originally Published: August 7, 2009 12:34 p.m.
VERDE VALLEY -- Highway construction from one end of the Verde Valley to the other continues to slow traffic at first and then allow it to speed up substantially.
Perhaps, the most obvious work is the called the Cherry Creek Safety Improvements to State Route 260, are close to wrapping up.
The intersection of the re-aligned Cherry Road was opened Thursday morning, according to ADOT spokesman Bill Pederson. The new signalized intersection of the historic road combines the access for the Camp Verde Justice Facility and the Out of Africa Wildlife Park as well as Cherry Road properties.
The former access to the Justice complex and wildlife park was closed. It will be torn up and removed leaving only the single junction.
Peterson says it will be a couple more weeks before the traffic signals will be operable.
Some paving is being completed and temporary striping put in place.
A northern leg of the intersection connects to the Yavapai Apache Nation properties as well as providing a connection to Old Highway 279.
In addition to the single intersection at Cherry Road, the project provided passing lanes between Cherry Road and Coury Drive. The intersection of Horseshoe Bend was improved, shoulders widened at Park Verde and a left turn lane added to Dickison Circle.
Peterson says slopes were flattened at some points to provide better sight distance.
McGuireville Traffic interchange
Work continues to improve and extend the northbound and southbound entrance ramps for Interstate-17 at the McGuireville Interchange. The shoulder is restricted to provide a safe work zone. Flaggers as well as signage are guiding motorists through the existing access ramp.
Excavation continues behind barricades on the northwest side of the interchange to  accommodate the widening and lengthening of the southbound exit ramp
Peterson says it "is a complex project." There is still a lot of work to be done and the reconstruction will not be complete until the first quarter of next year. Workers are "switching between sections of the ramp and bridgework because of the tight working conditions in the area.
Jerome Retaining Wall Project
Traffic control signals restrict movement to a single lane around a work to rebuild a failing retaining wall in Jerome.
The wall, at the south end of the town limits, lies just feet away from where a classic Jerome home stands. Before the reconstruction, the wall bulged where drainage had broken through the old wall and threatened to collapse.
ADOT says motorists can expect delays of up to 30 minutes during work hours and 5-10 minutes otherwise.
More like this story