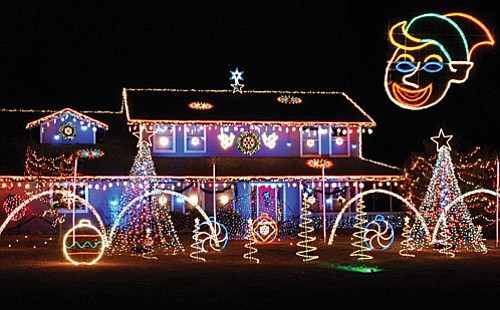 Originally Published: December 2, 2009 6:46 p.m.
verdenews.com video slide show produced by Clayton Peterson
>>You need Adobe Flash Player to view this video. Click here for free download
Video slide show length 2 minutes, 30 seconds
For three years now Dave Kessel has transformed his property into a holiday display that can only be termed "spectacular." Creating most of the lighting effects out of raw materials and using computer synchronization, he has produced nothing short of a professional light and music extravaganza right in the heart of Cornville. You owe it to yourself to check out this free entertainment event located at 555 S. Gloria Lane. There are two shows nightly at 6 p.m. and 7 p.m. Seating and space heaters are provided for the comfort of visitors. While the presentations are free, a donation box is available with all the proceeds going to the Old Town Mission - a charity Dave supports.