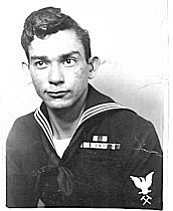 Originally Published: February 12, 2009 9:09 p.m.
Ascencion E. Enriquez, 86, of Cottonwood, died Feb. 10. He was born Jan. 26, 1923, in Clarkdale, the son of Juan and Octaviana Espino Enriquez.
He was a U.S. Navy veteran who served in the Korean War.
Mr. Enriquez worked as a miner and welder in addition to his military service. He owned and trained race horses and was a licensed groom with the Arizona Department of Racing. He worked as a member of the Civilian Conservation Corps.
He was preceded in death by a son, Frank Ascension Enriquez and a daughter Connie Lynn Enriquez.
He is survived by a son, James Enriquez; daughters, Linda West of Phoenix, Carmen Cruz of Phoenix, Victoria Campe of Las Vegas, Nev., Jayne Mendez of Fontana, Calif., Anna Mora of San Antonio, Texas; brothers Luis (Armida) Enriquez of Granada Hills, California, Edward Saavedra of Phoenix, sisters, Modesta Olvera of Tucson, Aurora Rodriguez of Albuquerque, N.M.; 26 grandchildren and 35 great-grandchildren.
A visitation will be held on Sunday, Feb. 15, in the Westcott Funeral Home from 4-6 p.m. The recitation of The Rosary will be at 5 p.m.
A Funeral Mass will be held on Monday, Feb. 16, in the Immaculate Conception Catholic Church at 10 a.m. Burial will follow in Valley View Cemetery.
An online guestbook is available at www.westcottfuneralhome.com.
More like this story