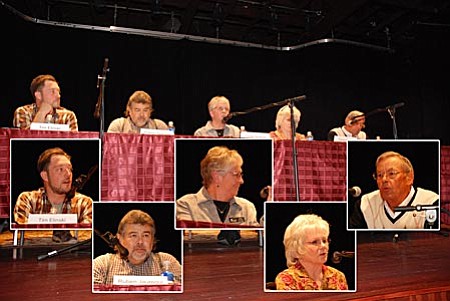 Originally Published: February 16, 2009 11:07 a.m.
Cottonwood citizens have seen the campaign signs all over town. Many have already attended a candidate forum. For those who have not met those vying for seats or attended a candidates forum, here is the background of each and their stands on some issues.
No candidate is a true outsider to city politics. Three are currently seated on the council. Another is a former mayor. The fifth candidate is a planning commissioner who avidly attends most council and other meetings.
Planning Commissioner Darold Smith is a veteran and former businessman in Washington State who moved permanently to Cottonwood in 2000. He is a member of the Kiwanis and is "passionate about my family, improving Cottonwood City Government by bringing a 'new voice' to Cottonwood council chambers, saving the Verde River and golf."
Former Mayor Ruben Jauregui, is a hair stylist who, with his wife, have owned their own business in Cottonwood since 1978. He served as a Parks Commission and was elected to the council in 1995 and served until 2007. He is a member of the VFW, American Legion and Moose and is active with youth athletics. "My experience with 12 prior years of city budgets will be a great benefit to the city in a difficult economic period," he says.
Tim Elinski is also a former Cottonwood Planning commissioner who joined the Cottonwood council three years ago as an appointee to an unexpired term. He is a native Arizonan who is a self-employed tradesman and owns a small construction company. "My background is not political, but from blue-collar, common sense and hard work, which, I feel, gives me a good perspective."
Linda Norman has lived in Cottonwood for 24 years. Her work experience as a bookkeeper, which includes working at Mingus Union High School, "has helped me understand the funding process of government entities and how the funds have to be distributed. I would like to continue working to serve our citizens." She is a seated member of the council.
Finance is also the background of incumbent Karen Pfeifer who moved from Florida to Arizona in 1972. "I have always had an interest in civics and volunteering." She has been a bookkeeper, banker, accounts manager and a licensed insurance agent. "I truly enjoy what I do and feel I have done a good job for he community.
Most important in difficult economic times?
Pfeifer: To keep moving forward with little disruption of services and avoid laying off employees needed to provide those services. We must tighten up, keep an eye on spending and maintain our reserves.
We must recruit new businesses and help existing business to survive, by encouraging local shopping and using local services.
Smith: The most immediate crisis facing Cottonwood is getting a clear picture of the employment and economic issues. City planning through "Focus on Success" is excellent, but I also believe that we need to make an immediate and thorough examination of the economic situation in the city. To survive the recession and build Cottonwood, we must aggressively seek to attract business to the City. I note that Sedona recently granted its Chamber of Commerce $100,000 to help attract tourists. We have done very little to deal with this growing crisis.
Jauregui: We must live within our economic means. Projects may have to be delayed; city staff positions may hbave to unfilled or duties combined. It is a time to realize that everyone in the community is in the same situation when making decisions that will impact citizens.
Elinksi: Raising the sale tax eight tenths of a percent was a decision the council labored over and the opposition was strong. But, a dramatic reduction in city services may have crippled confidence and the economy. It is our role to provide comfort and security to citizens. Let them not be concerned about water from the tap, the CAT bus to arrive, the library to be open or the officer or firefighter to arrive.
Norman: We must remember that since there is no Cottonwood property tax, the sales tax is our main stream of funding. We must watch how we spend. Cottonwood is the business hub of the Verde Valley so new and continued good business is very important.
The Recreation Center and Annexation of State and Forest land to the north?
Jauregui: I have heard mixed feelings but I have supported the Recreation Center because it benefits all age groups. I am disappointed that rising construction costs caused the center to be scaled back, especially the walking/jogging track that would be a great benefit for seniors. The removal of the outdoor pool concerned many. It is gratifying to see citizens' efforts to raise the needed funds.
I haven't heard enough as to why Cottonwood should pursue this annexation, the benefits and drawbacks. Surely, the expenditure of $250,000 for a feasibility study seems mistimed.
Norman: Citizens voted to bond for the Recreation Center so we must move forward with the project. I think it will be a great project for all the youth and our citizens of all ages.
I do not feel comfortable giving an opinion on annexation until I know all the facts.
Pfeifer: I can't wait to go down the water slide. We are building a multi-generational Recreation Center that has been needed and wanted for years. I am excited about the idea of meeting rooms, inside walking track and water activities for all the community.
By annexing State Trust Lands we will have control of how it will build out and a say where the open space and wet lands will be, not the county. The state is not concerned about open space, density, roads or how many wells go on that land. The city and surrounding communities will work together on planning and have a buffer between other communities.
Elinski: If voters could have predicted the state of the economy now, perhaps they would not have approved the Recreation Center being constructed. I do believe the Recreation Center will be attractive, heavily used and appreciated by citizens, a source of pride as well as an economic boost. I believe that the economy will be on an upswing upon its grand opening and those who questioned it timing will be assured of its positive role.
The heated discussions over the Northern Annexation show that the Verde Valley cares about this land and the City of Cottonwood is a wonderful forum in which to discuss it. I believe with a strong council, active and continued cooperation from the local communities, we can steer preservation and development in a far better direction than if the lands were on the auction block.
Smith: The citizens of Cottonwood voted and approved the bonds for the Recreation Center, therefore it will be built. It is unfortunate that the architect and/or contractor made an approximately $1 million error in bidding, and the City, without penalty, allowed him to continue.
I am not persuaded that annexing the state and forest lands by the city is in the best interest of Cottonwood's citizens. I need more information from the Forest, environmental groups and others first.
More like this story