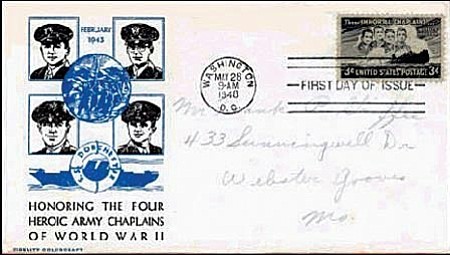 Originally Published: January 30, 2009 10:58 a.m.
The story of four men who gave their lives so others would live has, over time, taken on a life of its own.
And rightfully so.
At 12:55 a.m. on Feb. 3, 1943, a German U-boat torpedoed an aging luxury cruise ship-turned-troop carrier 150 miles off the coast of Greenland.
The USAT Dorchester was among a convoy of three troop ships and three Coast Guard escorts when it was hit on the starboard side, mid-ship, below the waterline.
The initial blast killed many in their sleep. The ship sank in less than 30 minutes. Many of those not taken down with the ship died in the frigid Atlantic. Only 230 survived.
The story of the sinking of the Dorchester was not all that uncommon. Several Allied troop ships fell victim to the U-boats in the early years of the war.
What set it apart was the heroism and sacrifice of four among the 904 souls on board.
All four were chaplains.
The Rev. George Fox, a Methodist minister, was a decorated hero from World War I.
Clark Poling, a minister in the Dutch Reformed Church, was the son of a Baptist minister.
John Washington, the former member of an inner city gang in Newark, N.J., was a Catholic priest.
Alexander Goode, a Jewish rabbi, had been commissioned an Army chaplain less than six months earlier.
All four were classmates at Harvard University's chaplain school before boarding the Dorchester.
Together they would die and together they would be remembered for their courage, grace and sacrifice. Witnesses said they passed up opportunities to save themselves so they could assist their fellow soldiers until the very end.
They would all be awarded the Distinguished Service Cross, America's second highest honor for heroism, along with purple hearts and the French Croix de Guerre.
Their legacy spawned a foundation, now dedicated to the recognition of those who have imitated their principles of selfless service to humanity without regard to race, creed, ethnicity or religious belief.
Both Verde Valley American Legions posts will mark the occasion with brief ceremonies of remembrance this Sunday, Feb 1.
American Legion Auxiliary of Post 93 in Camp Verde, 286 S. Third St., will have theirs at 1 p.m. The public is welcome.
American Legion Post 25 in Cottonwood, 480 Calvary Way, will have theirs at 11 a.m. Their ceremony is open to members and their guests.
Refreshments will be served at both following the services.
More like this story