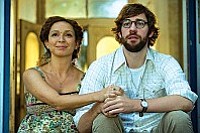 Originally Published: July 15, 2009 8:22 a.m.
We're concerned here with a couple who were college sweethearts and have been living together in the 10 or so years since.
They are educated people but there's an element of immaturity about them. In their early thirties they're still in the collegiate lifestyle, living in a trailer that could be condemned as uninhabitable.
Away We Go follows the couple on an odyssey from which they will learn the strength and the value of the bond they have with each other.
They are loving and devoted, but not married. Burt wants to be married to Verona, but she seems to have a problem with the notion. Burt (John Krasinski) is involved in the insurance business (although his exact role is obscure and his business activities seem only to involve a few cell phone calls that he receives).
Verona (Maya Rudolph) earns a living as an artist, although her exact role is also obscure. Verona's parents both died when Verona was still in college.
The story starts with the discovery that Verona is pregnant. When she is six months into term, they visit Burt's parents who live nearby.
Burt and Verona expect them to be loving grandparents and to be involved in their child's life. But Jerry (Jeff Daniels) and Gloria (Catherine O'Hara) have decided to realize their dream of living in Europe for two years.
Burt and Verona are taken aback because they strongly feel they need to be near family or close friends.
So they decide to travel to another part of the country to a place where they have people they are connected to.
The first stop is Phoenix. Verona's former boss, Lily (Allison Janney), welcomes them with great enthusiasm. But Lily is a wild, alcoholic, foul-mouthed, vulgar lunatic.
Next try is Tucson where Verona's sister lives. She's glamorous, accomplished and unattached with her own problems of insecurity.
Off to Madison, Wisconsin where LN (Maggie Gyllenthaal) lives; she and Burt grew up together and were like cousins. But LN and her husband are new-age thinkers in the most extreme sense. Burt and Verona stand for it as long as they can and then flee in a rage.
Montreal is where Tom and Munch Garnett live; they were all good chums in college. Their house is full of adopted children of various ages and races.
The two couples have a blast in their reunion, reliving their carefree youth. Tom and Munch are truly a loving couple but they have their own burdens to bear.
Burt gets a call from his brother, Courtney, in Miami telling him of a crisis there. They rush to Miami and help Courtney cope with a family problem that seems to finally demonstrate to Burt and Verona that there is no place, no home, no family without any issues that are difficult to deal with.
Burt and Verona are shedding their naiveté and coming face to face with the real adult world. They make the only sensible decision at this point - to go home. But now 'home' has a very different meaning for them and Away We Go concludes on a very optimistic note for the couple.
There is a lot of fun in Away We Go, mostly resulting from the bizarre characters we meet along the way.
They are fun, but be thankful they aren't real people in our lives. It's quite a satisfying film as it shows these two people at last becoming adults. There is no doubt that they will be successful as a family.
Away We Go is playing at Harkins Sedona 6 Theater.