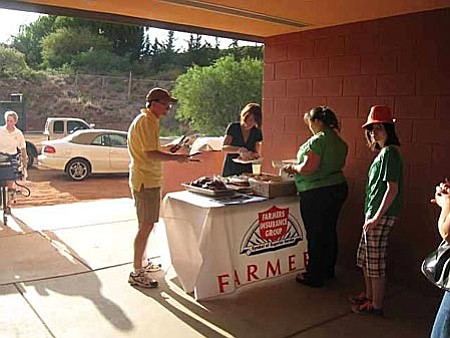 Originally Published: June 1, 2009 11:18 a.m.
SEDONA, AZ- Families celebrating their 8th Graders Promotion to High School enjoyed a delicious Promotion Punch with their Hamburgers, Hot Dogs and Salads on May 19th before the Ceremony at Bib Park Community School. Laughter, family slides of 8th Graders as small children, smiles and music were all shared while families "relished" a fun meal together at the Big Park Community School.
At the request of Big Park Community School Principal Steve Gardner,
Don & Kathy Nelms reached out to Big Park Community Businesses to create a special celebration BBQ for 8th Graders and their families for their Promotion Ceremony! Many Thanks to Weber's IGA Owner Jake Weber, Village Chevron Owner Tony Pugliano, Marketplace Cafe Owner Michelle Moore and Southwest Foods Kristin Aldrich for their generous donations to the Promotion BBQ!
Thank you for making an important investment in our families, our students and our future!