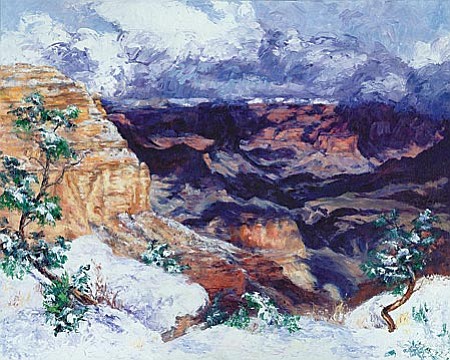 Originally Published: June 1, 2009 12:44 p.m.
Sedona's finest art galleries invite you to enjoy an evening celebrating openings, special guests, music, and artists' receptions at the Sedona Gallery Association's monthly 1st Friday Gallery Tour on June 5 from 5 to 8 p.m.
"Art of Gold" events offer $1,000 gift certificates to SGA gallery customers. For the Sedona Gallery Association it is an opportunity to give back to collectors. For the entire first week, June 1-7, every customer who purchases $500 or more in any the new work of Navajo artist David K. John who will be present. David K. John has been represented by The James Ratliff Gallery since the early 1990's.  David works in acrylic, clay, glass and bronze.  John's unique, heartfelt work is in the collections of many museums and individuals across the United States and abroad.
Kinion Fine Art and the Sedona Art Vault present award-winning plein air artist Mary Lois Brown who won second place in oil painting at the Sedona Arts Center's Members Exhibition. She was taught the approach of the Old Masters. This exciting world of light and color is what she pursues today. Join May Lois and some of Sedona's fine artists for wine and hors d'oeuvres.
Lanning Gallery joins with Turquoise Tortoise Gallery for "Indoor, Outdoor, Next Door," welcoming urban painter Jonathan Howard and Dixie Jewett who creates those monumental horses that stop traffic at Hozho Center.
Lark Art delights in presenting "Fowl Friends...The Zany Imaginings of Maureen White."  Whether it is her birdwatching bird or her violin-playing cow, Maureen brings warmth and humor to her art.  Combining years of experience as a talented painter with her desire to spread a little joy, Maureen has found her gift.  
Gallery of Modern Masters honors Lynn Welker who will be in attendance.  Lynn describes herself as a painter of imaginative excursions. Her abstract narrative landscapes appear in a refreshing style, unique to this artist. Her work has won international acclaim and exhibits in both private and public collections. Fork In The Road Restaurant will cater the reception.
Sedona Arts Center offers an evening of fine art and delightful poetry. Join us at 4 p.m. with readings at Poets Corner followed by a reception from 5 to 8 p.m. in the Fine Art Gallery - official opening of the new May Exhibit: Earth's Song.  Enjoy the spirit and magnificence of Earth as seen through the eyes of five talented local artists:  Cody DeLong, Linda Sherman, Jerry Pond, Susan Simkins, and Jeff Perkins.  
VC Gallery of Fine Art is exhibiting the work of animal portrait artist Suzanne Schirra. The artist was the Featured Artist for the National Dog Show on Thanksgiving Day sponsored by Ralston Purina. In addition, a drawing for "Dinner for Two" gift certificate from The Cowboy Club or the Barking Frog to the lucky art walk patron who registers during the Artwalk.
For more information on the Sedona Gallery Association, please call (928) 282-7390 or visit www.SedonaGalleryAssociation.com where you can find a complete listing of galleries and a printable map to all locations.individual member gallery will be given a ticket for each $500 increment. The "Art of Gold" drawing for the winning ticket is made the following Monday by the Sedona Chamber of Commerce.
All guests are welcome to attend the first Friday Gallery Tour free of charge and enjoy the complimentary Sedona Trolley, which does continuous loops to all locations. Some of June's highlights include:
El Prado Gallery by the Creek has a Stimulus Plan of its own: a tax break and free shipping on artwork from the "Outdoor Living" show. The show presents natural stone fountains, rock furniture, wind and kinetic sculpture for your outdoor spaces and runs from June 1st through 7th. The gallery will pay your sales tax, shipping or delivery fee within the continental US for outdoor art purchased during the show.
Goldenstein Gallery in uptown Sedona celebrates its multi-faceted series The Profound Palette. This final month of Goldenstein's three-month series gives audiences an in-depth look behind the artists and their work featuring acclaimed artists Keith Schall, Rafe Terry, and furniture artist Ernst Gruler. Also two special events: Fine Art photographer Susie Reed giving a free talk on Tuesday June 9, 6:30pm, and Sherab Khandro speaking on Friday June 26.
James Ratliff Gallery features
More like this story