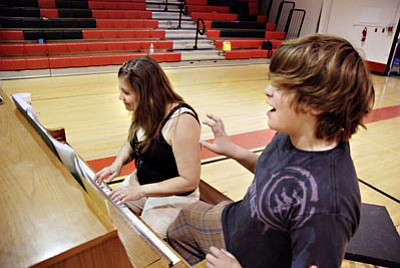 Originally Published: June 18, 2009 1:08 p.m.
Photos by VVN/Jon Pelletier
Rehearsals for the 24th annual Verde Valley production of Missoula Children's Theatre are under way this week at Cottonwood Middle School. This year's production is Rumplestiltskin and will be staged in the middle school gym on Saturday. Missoula actor/directors Ian Vytlacil and Melissa Briner are leading the series of workshops that teach the fundamentals of acting to the local cast and crew.
Enjoy browsing through these great verdenews.com photos below. If you see any images you would like to purchase as prints or photo gifts, such as mugs, T-shirts, mouse pads, tote bags, etc, click this optional link to visit our online photo store.
More like this story