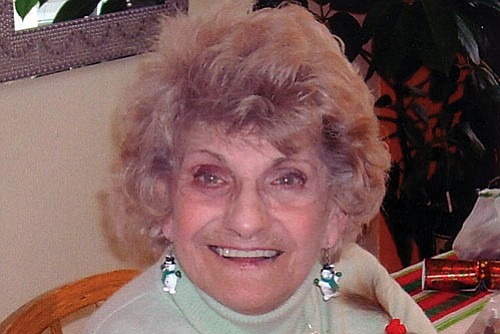 Originally Published: March 10, 2009 6:39 p.m.
Evelyn Landtiser 84, of Lake Montezuma, passed away peacefully on March 6, 2009. Evelyn was born on March 23, 1924, to John and Elizabeth Maleski.
She moved to Arizona with her husband, the late Rollie Landtiser, in 1945.
She is survived by her children, Patricia Meyers (the late Ronald Meyers), John Landtiser (Stephanie), Rollie Landtiser, Jr. (Jackie) and Sue Lehrman (Jeff), 13 grandchildren, 15 great grandchildren, sister Mary Collins and her loving dog and companion, Annie.
Evelyn was deeply loved and will be missed by all.
Visitation will be held on Wednesday, March 11, 2009 from 5-8 p.m. and Funeral Services on Thursday, March 12, 2009 at 1 p.m. at Greenwood Memory Lawn Chapel, 719 N. 27th Ave., Phoenix, AZ 85009.
Interment will follow at Greenwood Memory Lawn Cemetery. In lieu of flowers, donations may be made to the Multiple Sclerosis Foundation, National Headquarters-Donations, 6350 North Andrews Avenue, Fort Lauderdale, FL 33309-2130.
Information provided by survivors.
More like this story