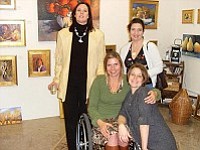 Originally Published: September 8, 2009 3:34 p.m.
It was a long, hot summer and now welcome the cool nights, the colors of the leaves just beginning to change, the promise of lovely, breezy evenings.
Changes have been taking place down in Old Town too, and with the Art Walk. TC Gallery and Bear's Earth Gallery are vanished with the Summer heat for now, but new artists are coming in to support us, and some of our historic neighborhood artists have set up to be part of the Walk, as well.
First, the Old Town galleries and what they have to offer this Second Saturday Art Walk, Sept. 12
Wind Dancer Gallery will be exhibiting a "Flower Power" show. Original oil paintings exhibited through colorful flowers in pots, gardens and fields. Come by, meet the artist, enjoy a beautiful show and enjoy a glass of fine wine. Three invited artists will also show on this patio.
Javadog Gallery features the art of Ramona Stites and other local artists, currently including: John Deventhal, David Lash, Brent Jones, Ken and Lyn Mikell, Cheryl Alexander, Robert Siracusa and Catherine Ransom.
Monika Cate of Cate Studio & Gallery on Cactus will be showing local artist Dave Rentz, a photographer/writer from Germany, Christian Erdmann, and her own work of mixed media and stained glass.
Joining the Old Town businesses for the Sept. 12 Art Walk are a grouping of Valley Artists, as follows:
Kyla Allen acrylic painting and hide art, Joan Bourque paintings and murals, Carolyn Carsula contemporary paintings, Jean Cooper watercolors, Sallie Cross watercolors and mixed media, Sue Davis watercolors, acrylics, and oils, Janet Hoffer SW Photos and Photo-Stories, Emily Miller mixed media, Fred Newton SW mixed media and B&W photos, Wayne St. John pottery, acrylic landscape paintings, and prints, Jim Sullivan wind sculptures, Debrey Taylor mixed media and collage, Elizabeta Vujkovic oil paintings, Nancy Woods mixed media.
"These artists wish to thank the Old Town Association and the businesses for this opportunity," wrote Janet Hoffer, artist coordinator.
Thank you as well to the City for its efforts to close Pinal St., from Main St. Eastward to accommodate the other invited artists' tents. And many thanks to the Boys & Girls Club, who is supplying volunteers, creativity and enthusiasm. We look forward to seeing their new workup of our old event flags.
One week later, welcome back Patt Manheim and The Manheim Gallery, which will present a collaborative effort with Old Town Center for the Arts, in the theme of the OTA's Sept. 19 Cowboy Cruiz-In at the Old Town Jail from 4 to 8 p.m.
To participate in future OTA events, call (928) 649-3038, Writer Annabel Sclippa, OTA, VP