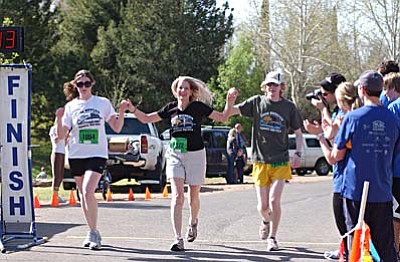 Originally Published: April 20, 2010 11:54 a.m.
Over 300 people ran or walked to honor Brian Mickelsen and promote heart health Saturday at Riverfront Park in the second annual Brian Mickelsen Memorial Half-Marathon, 10K, and 2 mile Run/Walk.
People from all different ages and skill levels participated.
The event was coordinated by Ryan Bigelow. He's in charge of the new recreation center, but for now he's also the Sports Coordinator.
Lin Mickelsen was proud of the event and the turnout.
"Ryan has done a great job," said Lin. "It's great to see people from the community come out to honor Brian."
It was hard for Lin Mickelsen to put into words how much this event meant to her, but she showed strength.
On running the race, Lin Mickelsen said with a smile, "I just kept thinking about Brian and how I'm doing this for him, because I'm not a runner."
Ky Mickelsen started the 10K race with his mother, but Lin wasn't about to try and keep up with him.
"We started together, I couldn't keep up with him though," said Lin. "We finished together too, because he turned around and came back for me and his girlfriend Jennifer, so we all came into the finish together."
Seeing them cross the finish together embodies the mantra on a plaque dedicating a tree to Brian Mickelsen at Riverfront Park, Start to Finish.
Ky Mickelsen is 20 and studying Chemistry and Math at NAU. His studies keep him from running as much as he'd like.
"I try to run every once and a while," said Ky Mickelsen, "but I don't have that much time on my hands."
The race means a lot to him as well.
"It's a fun race and it's nice to see all these people come out, and they're here for my dad, and that's awesome to see to community come out like this," said Ky Mickelsen. "I like it, I helped design the half-marathon course, it's harder to be pushing a stroller through the woods, but the 10K in a great family run and the two-mile is a fun family run. I like that it has a little bit of everything."
There were several sponsors of the event, but the primary sponsor was The Heart and Vascular Center of Northern Arizona.
Their medical director Jim Dwyer wanted to inform people about what his center does and the importance of heart health awareness.
"It's great to be out here seeing everyone enjoying the beautiful weather of central Arizona, and a worthy cause, the memory of Brian. We invite people to check out and learn about our services, including our very low-cost heart-screening program," said Dwyer.
"We're honored to be the platinum sponsor for the annual Brian Mickelsen Run and Walk," said Dwyer. "We certainly appreciate the opportunity to draw attention to the importance of heart health for everyone. It's best to start pursuing a healthy lifestyle when young, but it's certainly never to late to start."
In one case, a participant of the event was still in utero.
Sarah Wilson ran and walked the two-mile portion. Last year she ran the 10K
This year Wilson is eight months pregnant. She was also pushing her youngest son in a stroller. Her new baby will be a girl.
"It's important to stay active when you're pregnant," said Wilson. "It's a lot easier to lose the weight, that's for sure."
The man who ran the half-marathon in the fastest time lost 50 pounds when he started running again.
His name is Jason Wolfe. He ran track for NAU about a decade ago, but back then he was running half-mile and mile long races.
After college he moved to Phoenix and staying healthy was less of a priority in his life.
He moved back to Flagstaff and found time to start running again, but this time he's running long distances.
"I'm training for a 50-miler in June, it's the San Juan 50," said Wolfe. "I've been doing a lot of stuff around the Grand Canyon. A lot of longer runs, 30 plus miles. So today was a little bit of a speed day, but it was fun and I had a great time."
Wolfe finished the race in one hour, 12 minutes, and 58 seconds. It's his personal best.
Wolfe thought the half-marathon course was great.
"I thought the scenery was awesome," said Wolfe. "Coming into today I didn't realize there was going to be any trails, so when I was out there and the guy on the bike leading us says we're cutting down here I was surprised."
Wolfe thinks a race where all types of people can participate is great for the community.
"It's great because I think there's something for everybody," said Wolfe. "You get a lot more participation. People starting out might do the two-mile this year, maybe the 10K next year, or just keep doing the two-mile. I just think it's great to see this many people out, getting active. It makes it a lot more fun because if you just had the half-marathon, you'd get a smaller group of people. The way it is makes it more of a community, family type of race and it's a great deal."
Half-Marathon
Name. Age, Place in age group, Sex, Time, Pace
1 JASON WOLFE 33 1/6 M 84 1:12:58 5:35
2 RANCE MYERS 45 1/6 M 47 1:20:04 6:07
3 DANIEL JAIMES 19 1/3 M 31 1:23:51 6:25
4 KRISTINA PHAM 37 1/6 F 53 1:25:17 6:31
5 JESSE ALEXANDER 43 1/7 M 2 1:27:01 6:39
6 RON RODRIGUEZ 41 2/7 M 60 1:30:30 6:55
7 LARRY BUTLER 34 2/6 M 251 1:33:08 7:07
8 SANDRA FONTAINE 34 1/8 F 21 1:33:09 7:07
9 JUSTIN BOYD 20 2/3 M 6 1:34:24 7:13
10 BRENDA WILLIAMS 36 2/6 F 87 1:35:50 7:19
11 TOM HICKERNELL 48 2/6 M 81 1:38:13 7:30
12 NORM BROUILLARD 44 3/7 M 9 1:38:49 7:33
13 NATHAN MITCHLER 34 3/6 M 45 1:39:24 7:36
14 BEN OSBORN 36 1/8 M 80 1:39:30 7:36
15 SCOTT REILLY 40 4/7 M 56 1:41:07 7:44
16 GINA KLINGELHOETS 23 1/4 F 37 1:41:18 7:44
17 MATTHEW MALLOY 54 1/10 M 42 1:41:42 7:46
18 STEVE NESTLE 56 2/10 M 48 1:41:47 7:47
19 DESIRAE NOONAN 31 2/8 F 49 1:42:01 7:48
20 RON MOHNEY 61 1/3 M 46 1:42:26 7:50
10K
1 JOSE JUAN WELLS 1113 16 1/12 M 37:45 6:05
2 COLIN GARTTMEIER 1031 15 2/12 M 37:58 6:07
3 AUSTIN COVEY 1020 16 3/12 M 38:11 6:09
4 HUNTER RAUCH 1089 17 4/12 M 38:30 6:12
5 KY MICKELSEN 1071 20 1/5 M 39:27 6:21
6 CHRIS ORTIZ 1082 16 5/12 M 40:58 6:36
7 SCOTT PALADIN 1083 17 6/12 M 42:01 6:46
8 LANE GEHL 1042 15 7/12 M 42:48 6:54
9 RAUL MARTINEZ 1066 51 1/5 M 44:17 7:08
10 JON FRERIKS 1030 49 1/7 M 47:07 7:35
11 CRAIG MAI 1064 41 1/3 M 47:19 7:37
12 JAMES MOORE 1001 60 1/7 M 47:23 7:38
13 SUSAN HOLM 1125 40 1/10 F 47:27 7:39
14 DON MATHIEU 1067 64 2/7 M 48:30 7:49
15 CHUCK HARRINGTON 1040 66 1/4 M 48:31 7:49
16 ZACHARIAH ZIENKA 1115 17 8/12 M 48:41 7:51
17 SKYLER STORIE 1103 15 1/5 F 48:42 7:51
18 EMMA SCHRANER 1099 15 2/5 F 48:44 7:51
19 ROBERT GODFREY 1034 48 2/7 M 49:01 7:54
20 ADAM SANDOVAL 1097 17 9/12 M 49:03 7:54
Two-Mile
1 MICHAEL ARROLLO 15 1/44 M 4127 13:29 6:45
2 ALLYSON ARELLANO 10 1/82 F 4002 13:44 6:52
3 CRESCENCIE ARELLANO 49 2/44 M 4124 13:44 6:52
4 JORDAN PROUTY 12 3/44 M 4081 14:14 7:07
5 TURNER WALZ 12 4/44 M 4103 14:15 7:08
6 KAREN ARELLANO 11 2/82 F 4001 14:51 7:26
7 CAMERON BLONIARZ 12 5/44 M 4125 15:09 7:35
8 NAOMI SKEER 10 3/82 F 4136 15:27 7:44
9 MATHEW ARROLLO 12 6/44 M 4128 15:35 7:48
10 CARSON ANDERSON 12 7/44 M 4138 15:36 7:48
11 JOSHUA REILLY 09 8/44 M 4135 17:03 8:32
12 SCOTT JOHNSON 24 9/44 M 4048 17:44 8:52
13 WALZ TALON 14 10/44 M 4099 18:35 9:18
14 ANDREW SINGER 17 11/44 M 4094 18:38 9:19
15 LORI WOLF 48 4/82 F 4118 18:50 9:25
16 JAYME WELLY 22 5/82 F 4105 18:51 9:26
17 BRYANT BREANNA 23 6/82 F 4018 18:52 9:26
18 TANNER WALZ 19 12/44 M 4104 18:56 9:28
19 RYAN RUSSEL 8 13/44 M 4084 19:13 9:37
20 BEN RUSSEL 35 14/44 M 4114 19:14 9:37
More like this story