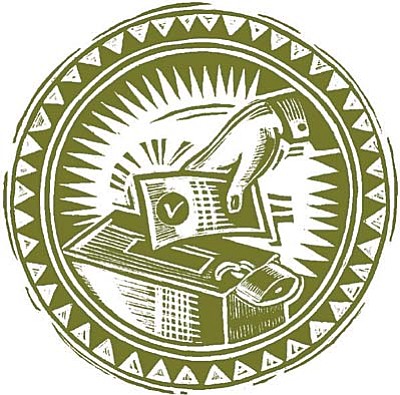 Originally Published: April 29, 2010 9:58 a.m.
PHOENIX -- Arizonans will vote in November if they want the state to have a lieutenant governor -- and want that person elected on the same ticket with the governor.
On a 19-11 vote Wednesday the Senate gave final approval to a constitutional measure, which would rename the current post of secretary of state to the new title. Backers say that would better inform voters that the person they choose for this spot is first in line to become governor if the incumbent quits, dies or is thrown out of office, something that has happened six times in state history -- five since 1977.
But the plan going to the ballot for voter ratification has a twist: Whoever won each party's nomination for lieutenant governor at the primary would then run as a ticket with the party's gubernatorial hopeful.
That idea bothered Sen. Chuck Gray, R-Mesa. He said it would put the lieutenant governor eventually elected in the position of having to follow the policies of the governor, even if they ran during the primary on totally different platforms.
What's worse, said Gray, is the possibility of electoral mischief.
He pointed out the lieutenant governor will inherit the current duties of the secretary of state, including being the state's chief election official.
"Having the shadow of the governorship over this office would or could unduly influence the person over our elections because they might disagree with how to proceed on election matters,' Gray said.
"If the governor on his or her soapbox went a different direction than the new lieutenant governor, then the lieutenant governor, if they disagreed, would appear to be insubordinate, if you would, to some degree of the governor,' Gray continued. "They should run independently of each other so that we can be assured the lieutenant governor's position would have the full authority to act without any undue influence from the office of the governor.'
1948 -- Secretary of State Dan Garvey becomes governor on the death of Sidney Osborn.
1977 -- Wesley Bolin moves from secretary of state to governor after Raul Castro resigns to become ambassador to Argentina.
1978 -- After Bolin dies, Attorney General Bruce Babbitt becomes governor, as Rose Mofford could not assume the job because she was appointed to replace Bolin as secretary of state and had not won an election on her own.
1988 -- Mofford, now elected secretary of state, replaces Evan Mecham who was impeached and convicted by the Legislature.
1997 -- Secretary of State Jan Hull becomes governor after Fife Symington quits following a felony conviction.
2009 -- Jan Brewer takes over for Janet Napolitano after her confirmation as homeland security chief in the Obama administration.