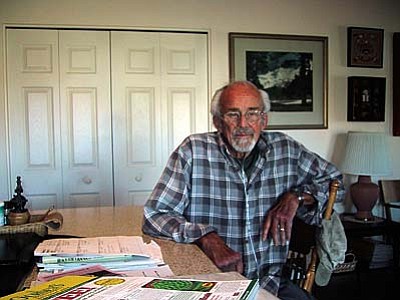 Originally Published: August 3, 2010 1:24 p.m.
Milton "Harvey" Kleck of Cornville, died at home on the 31st of July 2010. He was 75 years old. He was born in Flagstaff on the 3rd of September 1934 to Raymond and Mary Margaret Kleck.
While a small child, Harvey lived with his parents in Artesia, New Mexico for a short time and then in Phoenix until about 1950 when the family moved back to Flagstaff. Harvey was an avid sportsman, fishing and hunting whenever the opportunity arose. He also had a great love for all things mechanical and built a stock car that he raced on tracks in Flagstaff and Phoenix. The Friday, Sept. 16 1955 issue of the Arizona Daily Sun shows him as one of six Flagstaff drivers in a N.A.S.C.A.R sanctioned race being held at the Flagstaff City Park on the following Sunday. He was a racing fan all his life. Other things he enjoyed were photography and working in the orchard and the garden in Cornville.
After graduating from Flagstaff High School, Harvey worked at Custom Metal Crafts, a sheet metal shop and heating and air conditioning business belonging to his father Raymond. When his father decided to change occupations Harvey went to work for Boyer Metal where he worked until 1983, running jobs all over the state and on several of the reservations.
In 1983, he and his wife and son Paul moved to Cottonwood and started their own heating and air conditioning business, Cottonwood Metal Products. Two more sons, Charlie and Jim, joined the business later.
In 1998 Harvey and Jean sold the business and retired to Cornville where they've lived since.
He is survived by his wife of 53 years, Jean; their sons Paul (Karen) and Charles (Robynn), both of Flagstaff, and James (Carla) of Clarkdale. He was preceded in death by son Michael. He is also survived by his brother Dale (Linda) of Douglas; eight grandchildren and five great grandchildren.
In lieu of flowers, a contribution can be made to Northern Arizona Hospice, 269 S. Candy Lane, Cottonwood, AZ 86326.
A graveside service will be held on Friday, August 6th at 10 AM at Flagstaff Citizen's Cemetery.
An online guestbook is available at www.westcottfuneralhome.com
Information provided by survivors.
More like this story