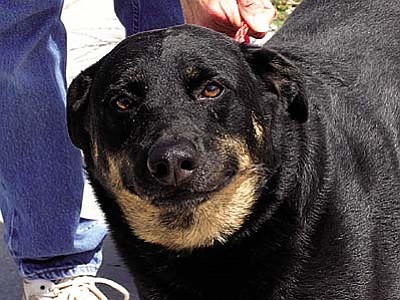 Originally Published: August 5, 2010 1:30 p.m.
Have you heard my stories about how much I just love the Arizona heat? Well if not, read on. If so, read on too there is some good information in today's Pet Corner.
Many years ago before moving to Arizona one of the stories I heard was that it wasn't really "hot" in Arizona.
Supposedly this was true due to the fact that the only thing experienced by people living in Arizona was called dry heat.
Who made that fairytale up? After more than 11 years of living here I have come to one huge conclusion. It's hot here and there is no pretending that it isn't.
Now we are into August and that means the heat is turned up even to a higher extreme. I really didn't believe it could get any hotter.
Dry heat, wet heat or just plain heat it's all hot. Not only do we have the heat, but since the monsoons began it seems the world around us has turned into an outdoor sauna.
Don't get me wrong, I am very thankful that I live in Cottonwood. After living in Phoenix for a couple of years I treasure the cool mornings and evenings that we experience up here. I'm sure my animals feel exactly the same way.
Have you noticed that lately the evenings aren't really what you would call cool? Our animals have even changed temperament.
Since we have the pleasure of seeing the sun almost every day of the year, do you ever wonder if your pet could get sunburn?
Too much exposure to the sun can burn our animals in the same way it burns a human. Make sure your four-legged kids have sad too!
Limited time is the sun is recommended for our pets. This is especially true for our fair-haired furry friends.
Conduct as much of your outside time early in the morning or once the sun goes down. Pets just like humans can suffer if exposed to the extremes of being outside in the sun.
We've heard these same cautions for humans also. Blondes, redheads and fair-skinned, beware of those powerful rays. This is the same for our animals.
Use sunscreen on yourself and your pets if you are going to be outside for prolonged periods of time. They actually make sunscreen safe for our animals.
If you notice any type of discoloration or sores on your pet's skin you will want to schedule a vet appointment for your pet. Just like in humans, be safe, not sorry.
Sunburn is not the only thing we have to worry about during the relentless summer weather.
Cats and dogs are also prone to heatstroke and heat exhaustion. Heatstroke is more common in dogs due to the fact that they are outside more and often left in hot parked cars.
Some animals are more prone to heat issues than others. Double coats and animals with pushed back faces have the most trouble in hot weather.
Heat conditions in dogs occur when the animal's body temperature exceeds the ability to cool his body down.
The normal body temperature for our canine friends ranges between 100 and 102.5 F.
When the body temperature rises above 103-105 F the normal cooling mechanisms can't handle the load.
At this point serious conditions can happen and medical help for your pet will be required.
This elevated temperature is different from a fever. Fevers are normal responses to infections or inflammations.
Cats don't sweat by panting like our dogs do. They sweat through their paws. They lick themselves more when it's hot, which puts saliva on their fur.
The saliva evaporates off the fur the body temp goes down. That's why you will see your feline friend grooming more on a hot day.
A cat's temperature should normally be 100.5-102.5 F. When it rises your cat is also in danger of heat issues.
It's hard to realize but heat stress can happen very rapidly. Often animals show signs in just minutes. This is especially true of animals that primarily stay outside.
Remember, lots of fresh cold water at all times. Ice cubes in the water help keep the water cool longer.
Ice cubes also provide entertainment for some animals. Some dogs get very excited and bark at them like they are live creatures. I love watching the different reactions with the animals.
Freeze a tray of ice cubes and put them out back in the shade. Watch the animals swat them around and do all types of other crazy antics.
This can even provide entertainment for the humans in the house if you don't mind a wet floor. My favorite thing to do is place them on the back porch in the shade.
Put the ice in a pan of water and your pet's reaction to the cubes floating. When adding ice I always observe until the cubes reduce in size so no one chokes.
Be creative during this time of year. You'd be surprised what entertains your pets while cooling them down.
Letting your pets stay in the house along with fresh water is the best thing you can do for them. But, we all know at times they just want to play outside.
I don't know about you but when it's in the 100's I really don't enjoy sitting outside no matter how beautiful the day is.
Being in air conditioning or even a swamp cooler is much better than being left outside to rest in shade.
Animals also love to rest in front of a floor fan. Careful of those blades, we don't want any tails getting caught. Only use fans with safety front guards.
If your pets are like mine all they want to do is come in and rest on the cool tile during this time of the year. Energy is zapped and staying cool is the main focus.
Watch your pet closely. Be aware of any changes in your pet's behavior. Seek medical attention when things out of the ordinary occur. Once again, be safe and not sorry.
Tips on how to BEAT
the heat this summer!
There are ways to help your animals beat the heat. If you use the following suggestions heat related conditions may not occur:
• Groom your pet on a regular basis.
• Provide fresh water constantly for animals inside and out.
• Get haircuts for breeds with large amounts of fur or undercoats.
• Avoid activity during the hot parts of the day.
• Take plenty of water whenever you take your pets out.
• Provide plenty of shade for your pets.
• Large industrial or porch ceiling fans outside for pets staying outside.
• Place a kiddie splash pool in the shade with a couple of inches of water in it for your dog.
• Don't leave your pets in the car during this time of year.
If you suspect heatstroke in your pet, cool him down promptly and call your vet. Your rapid thinking can save your pet's life.
Don't use ice water to cool down your pet. Ice water may cause a dramatic change in body temperature. That's not what you want to achieve.
Put your pet in the bathtub, kiddie splash pool or sink and fill it with cool water, not cold. You could also put cool wet towels to his body.
Refresh the towels in cool water since the towels will quickly reach the temperature of your pet's body.
Some of the symptoms of heatstroke in your pet are:
• Gasping for air
• Weakness
• Heavy rapid panting
• Glassy eyes
• Excessive drooling
• Deep red colored gums
• Inability to stand
In severe cases of heatstroke your animal may have seizures, diarrhea and even vomit. It's important that you watch your pets closely so things never get to this degree.
This Arizona dry heat can be brutal and relentless. Don't let it claim the life of anyone you love.
Have you stopped in our thrift store, the Good Buy Shoppe lately? Have you noticed the positive changes going on?
The shop is under new management and you can tell as soon as you walk in the door. The daily specials are posted to keep everyone informed.
There is a sidewalk sale going on out front with unbelievable pricing. You will find better prices in the store also. No reasonable offer is going to be refused.
We have also reopened on Wednesdays. In the future we would like to have enough volunteers to be open on Saturdays.
Do you realize what shopping, donating or volunteering at the Good Buy Shoppe does for the stay and abandoned animals living at VVHS or "Adopt for Life" Center for Animals?
Each one of those ways to help means everything when it comes to helping the animals. If we have to hire employees it takes away from what could be used for the animals.
Those three ways to help, gives the animals a better life! Contracts pay for the first days in the shelter, the Good Buy Shoppe pays for life after the contract money is gone.
If you frequent our shelters, you see that our animals are allowed to live for months at a time. There is no set time frame; it's for as long as we possibly can keep them.
People ask "how long does that cat or dog have?" We aren't the type of shelter that only gives an animal what is required by law.
As long as the animal is healthy and not aggressive, he can stay as long as we have space and the funds to care for them.
So if you have ever wondered why we have a thrift store in conjunction with the shelters, that where have just explained how the Good Buy Shoppe comes in to play. It's a necessity!
One more bit of news over at the Good Buy Shoppe. So many of you are so generous by donating to the animals, the animals have something for you in return.
With all donations received, the donor will receive a coupon along with a tax receipt for 50 percent off their next store purchase. It's a way the animals and all of us can show how much we appreciate your kindness.
Gently used household items are always needed and so is furniture. If you need a pick-up for your larger items, please call the shop (634-4298) and make arrangements. We will try to accommodate your needs.
Did you somehow receive a car, motorcycle, boat, house, trailer or other large item that you would like to donate?
If so, we would appreciate the generous donation and will be happy to issue a tax receipt. Items such as those can take care of animals for months on end. Thanks for all you do to help the animals in the Verde Valley.
More like this story