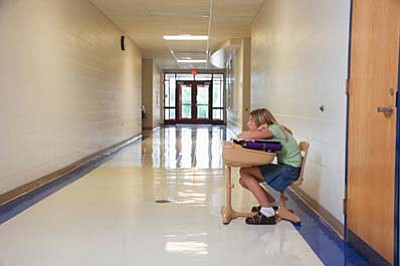 Originally Published: December 14, 2010 1:48 p.m.
The issue of academic achievement, or the lack thereof, for students at Mingus Union High School has fingers pointing in every direction except the one that matters most.
Some contend the issue is one of flawed AIMS tests or the federal government's No Child Left Behind program.
There's also the insidious blame game between Mingus and Cottonwood Middle School. Depending on how the data is spun, either Mingus is dropping the ball once a student leaves Cottonwood Middle School, or CMS is doing a lousy job preparing their students for high school.
All of which begs the question of whether students have any responsibility over the grades they receive? Or -- and this is the one that always rubs a raw nerve -- if their parents expect and demand academic success from their children?
Let's not forget that every single year there is a boatload of kids at Mingus who cash in on prestigious college scholarships from all over the United States. Why is it that students who are high achievers are good kids, but the ones who fail have lousy teachers or are victims of a flawed AIMS test?
The fact of the matter is that kids have the choice of making their years at Mingus what they want it to be. They can be as successful as they want to be. Many attain levels of success that will make your head spin.
For others, the high school experience is a train wreck.
For that, they only have themselves to blame.