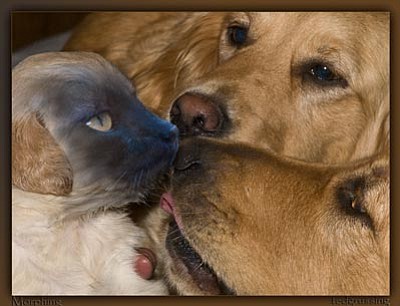 Originally Published: December 16, 2010 2:29 a.m.
Really, I';m at a loss as to how and explain the photo tonight; could it be that the Goldens have licked away a disguise that Q was using to get some of that great loving that Fran's Golden's deliver to anyone close enough to lick, or could it be that he is morphing into a Golden puppy in order to get the loving? Q acted pretty strange when I got home from Fran's yesterday afternoon and I hope his intentions are not to eat her Golden's. Careful Fran, we do want Piccolo to be around to have a litter this spring.
A day of working on images again and Leslie and I completed the corrections on a book interior and cover this afternoon. Good day!
For those of you who frequent the offices of the good Dr. Bill, I am delivering a new CD of images to them tomorrow with about 1500 images. Eat a lot of chocolate, cakes and other sugary foods so that you can get in there more frequently and see a great slide show of my work! Sorry about that Dr. Bill; I know that you prefer for your patients to not have cavities and a need for your services, but there are ways to grow the practice more and sugar is an alternative; I used it for many years until you reformed me; then too, it could help me sell more photos.
Hope I'm still welcome there and will find out tomorrow afternoon. Have a terrific day, I can hear the rain on the skylights and roof so the sleeping should be good. Don't think I'll reform myself though; happy the way I am and Jamaican Blue Mountain coffee will be brewing in just over four hours..
Cheers
Ted
More like this story