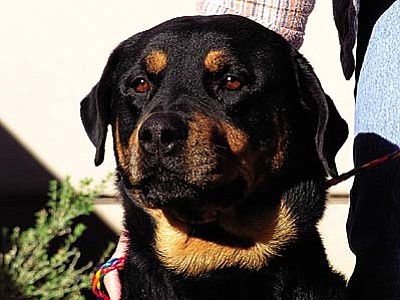 Originally Published: December 26, 2010 8:08 a.m.
I know it has to be very hard for someone that doesn't work in a Humane Society or any other type of animal shelter to know what it feels like during the holidays.
Parts of this column are sent in each year due to the way the crew and I feel when it hits the hardest during the holidays.
The truth of the matter is plain and simple. It's sad, very sad for us. Each of us knows that we have our own animals and that they are loved just as much as our children.
As the holidays draw near if you work with homeless animals you can't help but have some sorrow in your heart.
You know that each one of the animals deserve a good home and love. Instead they sit in cement kennels with their clean blankets or beds waiting for any bit of love that comes their way.
During the year it is dreadful enough, but as the most special times of the year arrive, it's even harder to try to accept.
These animals don't have a home and it seems that whoever previously owned them doesn't even care.
Over the past couple of weeks as I arrive at work in the morning, the lump in my throat gets larger and it's tougher to swallow.
Walking down the kennel isle shows me all of those little faces that are so excited to see me. They love all of us; we are their family for now.
One of my favorite parts of the day is greeting them in the morning. It doesn't take long for the animals that have just entered the inside of the facility to figure out that their stay here is going to be as pleasant as we can make it.
You watch them as they get familiar with the daily routine. Ones that once cowered and were anxious quickly learn that this is a safe place to be.
You'd be amazed at how those animals respond. They barely know you and still they love you, unconditionally.
Each one is eager to get a special treat they patiently wait their turn. Bodies wiggle, some bark with an anxious voice and then there are those that sit very quietly to see what they are going to get.
When special treats come in, it is so rewarding to pass them out. You should see how excited the dogs get.
Today, rawhide chews that keep them very busy for a little while. Oh how they like "Beggin Strips." Now thanks to so many of you, they have their peanut butter filled Kongs.
Feline lovers, don't you worry. When treats are passed out everyone gets one. Dogs, cats and even the staff members get special things this time of year.
The dogs are just much more vocal in the begging and the thanking. They honestly try to wait patiently. They remind me of small children at Christmas.
Wait until the animals see the Christmas presents that have been brought to them by so many thoughtful people.
I get so excited as I see the base of the tree filling up with presents for our animals. These items give the animals that little something extra that they deserve.
Donors have poured in the door for the last. We now have enough big chew bones, cat treats and toys for everyone to have a very special Christmas present.
The last couple of days treat time has been a little tougher on all of us. We are obviously looking at the animals that will not be in their "forever home" for the holidays.
Of course they have no idea how close the holidays are, or even what a holiday is, but we do.
To them it's just another day that they get tucked in for the night knowing that we will all be back in the morning.
No matter how I try to put it out of my mind, I can't help but think about it when each of us leaves to celebrate Christmas Eve and Christmas Day with our loved ones.
Yes, our animals at VVHS will receive lots of love that day, plenty of special treats and assurance that they will see us the next morning. Is it enough? No!
The animals at VVHS will know something is different when they get that huge piece of rawhide or pig ear that hardly ever comes their way. Think about it, they are getting a sample of what our animals receive all the time.
If you bring treats in for them, you are more than welcome to pass them out yourself. We encourage the interaction with the animals.
You will then feel the warmth in your heart that we feel every day at VVHS. The animals show their appreciation even for the smallest things in life.
Even though we humans have a hard time around here during the holidays, don't think for one second that the animals feel it in any way.
They get an abundance of love and care and even some special treats from our holiday tables. Our animals matter and they know it. Enjoy your holidays, just don't forget them.
A Rescue Dog's
Christmas Poem
Tis the night before Christmas and all through the town, every shelter is full, we are lost but not found.
Our numbers are hung on our kennels so bare, we every minute that someone will care.
They'll come to adopt us and give us the call, "Come here, Max and Sparkie, come fetch your new ball!"
But now we sit here and think of the days we were treated so fondly, we had cute baby ways.
Once we were little, then we grew and grew, now we're no longer young and we're no longer new.
So out the back door we were thrown like the trash, they reacted so quickly, why were they so rash?
We jump on the children, don't come when they call, we bark when they leave us, climb over the wall.
We should have been neutered; we should have been spayed; now we suffer the consequences of the errors THEY made.
If only they'd trained us, if only we knew...we'd have done what they asked us and worshipped them too.
We're left in the backyard, or worse let to roam, now we're tired and out of a home.
They dropped us off here and they kissed us goodbye, "Maybe someone else will give you a try."
So now here we are, all confused and alone, in a shelter with others who long for a home.
The kind workers come through with a meal and a pat, with so many to care for, they can't stay to chat.
They move to the next kennel, giving each of us cheer, we know that they wonder how long we'll be here.
We lay down to sleep and sweet dreams fill out heads, of a home filled with love and our own cozy beds.
Then we wake to see sad eyes brimming with tears, our friends filled with emptiness, worry and fear.
If you can't adopt us and there's no room in the Inn, could you help with the bills and fill our food bin?
We count on your kindness each day of the year; can you give more than hope to everyone here?
Please make a donation to pay for the heat and help us get something special to eat.
The shelter that cares for us wants us to live, and more of us will, if more people give.
-- Author Unknown
That's the very special poem that was sent to me. It's unfortunate that we don't have an author to thank for these words that are so true.
If you have the time, go over the poem again. It hits my heart a little harder each time I read it. I know the words are true.
In my mind I honestly believe many of the words in the poem say exactly what the animals are thinking.
"Why am I here? What did I do wrong? Is someone coming to get me? I've been here way too long!"
Do you know someone that is lonely and wishing they had someone to love? If they are animal lovers, have you considered giving them a gift certificate from VVHS?
Trying to adopt a pet for another person can be a disastrous thing to do. It's important that the human and the animal connect in a particular way.
Right now is an excellent time to find beautiful stuffed animals.
Take the animal, tie a pretty bow around his neck along with the gift certificate and wrap it up. What a holiday surprise someone special will have.
When the holiday excitement dies down, your special person still has something exciting to look forward to.
Gift certificates don't expire for a year and in that year a multitude of animals will come through our doors. You will find a wide array of both cats and dogs.
More like this story