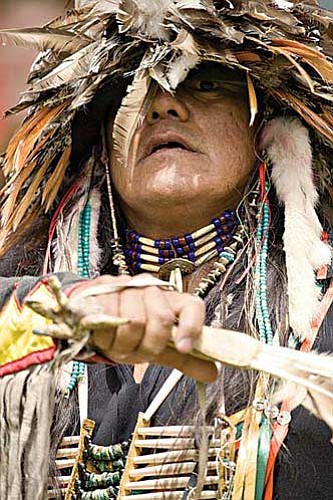 Originally Published: February 1, 2010 7:43 a.m.
CAMP VERDE - Last year's Festival of Native American Culture was a huge success, but from the viewpoint of its creator, something was missing.
Ken Zoll, President of the Verde Valley Chapter of the Arizona Archaeological Society, started the weeklong, non-profit event to foster appreciation for, and protection of, the Verde Valley's Native American cultural sites.
Given a lack of adequate funding, many of the valley's archaeological treasures have been left unprotected and to some degree unappreciated.
Proceeds from the festival are split between organizations that promote today's native culture and those that protect its past.
Last year, Zoll says he put the festival's emphasis on a series of lectures; something he feels was important but not as important as creating an awareness of the treasures the event was created to protect.
This year's festival, with events running from June 4-12, will put its emphasis on the introducing attendees to the valley's archaeological sites.
There will be music. There will be dancing. And there will be a speaker or two.
But the bulk of the events will take place outdoors, among the ruins.
"This is only the event's second year, but we are already getting back to our roots," says Zoll.
On the agenda this year will be a prehistoric astronomy program at Tuzigoot, archaeological hikes at Montezuma Castle Montezuma Well and Tuzigoot along with daily events put on the National Park Service and the U. S. Forest Service.
"There are no less than 75 sites in and around the valley's three National Parks, that the public never sees," says Zoll, "This will be one of those rare opportunities to see them."
The party starts with a three-day meeting of the Arizona Archaeological Society, to which the public cordially invited. It will include a Native American arts show, a Native American film festival, a diner and plenty of chances to go hiking.
Surround the main festivities, which take place in Sedona, will a celebration of Native American Dance in Clarkdale, a celebration of Native American music in Cottonwood plus all the goings on at the archaeological sites.
For details, times and dates, visit www.NAFestival.org.
More like this story