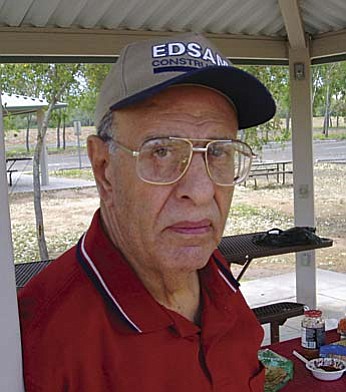 Originally Published: February 2, 2010 8:10 p.m.
Robert Butros, 80, of Clarkdale, died January 30, 2010. He was born January 6, 1930, the son of Jamil and Virginia Butros in Jerusalem. He loved his family, camping and reading.
  Mr. Butros is survived by his wife of 55 years Therese Butros; two brothers Albert and Edward Butros; two sisters Ophelia Bishouty and Olivia Sabella; two sons Jimmy and Ramzi Butros, both of Clarkdale; two daughters Audrey Batz of Ashburn, VA and Hildi Andrews of Bethlehem, PA; six grandchildren and two great grandchildren. He was preceded in death by his sister, Beatrice Franjieh Breitfeld.
  Services will be held at Immaculate Conception Catholic Church on Wednesday, February 3 at 10:30 AM
  Donations in his memory may be made to Northern Arizona Hospice, 269 S. Candy Lane, Cottonwood, AZ 86326.
An online guestbook is available at westcottfuneralhome.com.
Information provided by survivors
More like this story