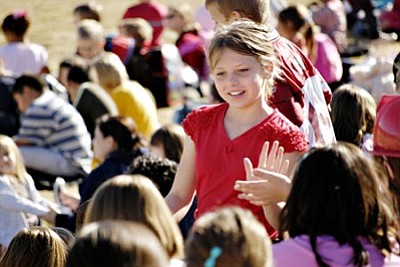 Originally Published: January 16, 2010 4:25 p.m.
Photos by VVN/Jon Pelletier
Oak Creek School (K-8) in Cornville held its Awards Assembly on Friday afternoon outside on the football field in what was an unseasonably warm winter day. The event was officially kicked off by the arrival of the Roadrunner school mascot on the back of a Harley Davidson motorcycle. Students were recognized for perfect grades and attendance, as well as excellence of character (the Verde Valley Fire Department was on hand to present Citizenship Awards) and scholastic improvement. Principal Ben Russell led the assembly and cheered on his students, and also urged them to keep up the good work.
Click here to request any of these images as prints for purchase
More like this story