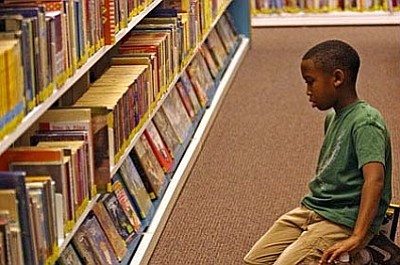 Originally Published: January 17, 2010 10:44 p.m.
Let's face it, we all have spare time where we want to do something we enjoy. It's even better when it doesn't cost anything to do it. Is there someplace here that provides entertainment for free? Yes, there is. It's your local library.
For library patrons who are reading this blog, you are well acquainted with this free entertainment jewel. Avid readers save a bundle each year on not buying books because the cost of a library card is free. Borrowing books from a library is free – unless, of course, you are late bringing back what you borrowed.
People can borrow books that are housed anywhere in our county through the interlibrary loan system. That means if your library doesn't carry a particular book, but the library in Prescott or Congress has it, you can request that it be sent to your local library. When the book has been received at your library, you will be notified that it is ready for pick up. How easy is that?
Cardholders can borrow books and movies. Yes, movies. Free beats the cost of any movie rental price and you will find that through the interlibrary loan system, you can even access some newer movies.
The nice thing I really like is being able to reserve books that have just been released or are scheduled to be released soon. My reservation puts me in a queue so that the library notifies me when it's my turn to pick up the book. I don't have to look for it week after week only to find it's not available.
Another nice feature is the free internet access the library provides to its cardholders. There is a set time limit, but, hey, you can't beat the price.
Also, there are a wide array of groups that meet at the library. There is a book discussion group, an ESL group, a writing group and various support groups for those who interested. A link to the Calendar of Events is listed below.
The library is also a great place for children's entertainment. Not only do they offer books and movies for children to borrow. They have computers with learning programs on them for the children to use and enjoy.
There are some great weekly programs in place for children as well, like:
"Baby Brain Time" which is held every Tuesday at noon.
"After-School Reading Club" which is held every Monday at 3:30 p.m.
"Family Story Time" is held every Thursday at 10:00 a.m.
There is even a Homework Help Center for those who need assistance. Contact the people in the children's library for details.
In the summertime, the children's library runs a wonderful reading program where the children can win prizes for reading books. My daughter loves this program and has taken part in it for the last two years. Last year, they added a new summer program for children where the children did a different craft each week. My daughter had a lot of fun with that too.
Last, but not least, are the online resources. If you have a library card and you're interested, you can learn how to speak Spanish, French, Japanese, Brazilian Portuguese, German, Mandarin Chinese, Greek, Italian, Russian and more. There are research databases to explore, magazines and newspapers to read, consumer reports to review, etc.
The library is one of the best resources our community offers. It provides free entertainment at a price everyone can afford.
On another note, there is one thing our family does to help our local library and I highly recommend it to all of you. Whenever we have grown tired or outgrown a book or DVD that is in good shape, we donate it to our library. Sometimes the library will incorporate the donation into its collection and other times it will give it to the "Friends of the Library" to sell. Either way, the library benefits from your generosity. They will provide you with a tax deduction form if you ask them to.
Now I read probably one to two books a week. The average cost of a paperback is $8 to $10. So if I average half the year as reading one book a week, the other half reading two books a week and going with the low side of the average cost per paperback, this change in how I acquire books to read saves my family roughly $624 a year. My husband reads about 26 books a year which saves an additional $208 annually. That's an overall $832 savings for my family.
I won't even get into the savings for my daughter because she borrows five books and three movies every week. What can I say? It's free entertainment.