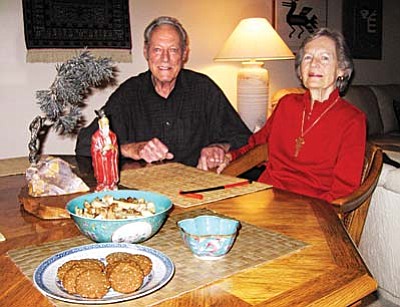 Originally Published: January 27, 2010 10:38 a.m.
Feb. 14, 2010 begins the Chinese New Year, The Year of the Tiger. Because the track of the new moon changes from year to year, Chinese New Year can fall between mid January and Mid February. It depends on the Chinese calendar, which consists of both Gregorian and lunar-solar calendar systems.
What better way to bring in the Chinese New Year is there than to learn of the adventures of one who has lived and experienced life on the Chinese mainland!
Village resident, Pat Van Evera, spent most of the first 10 years of her life in Fuzhou, China in the Fujien Province, northwest of Taiwan.
She was born in the Philippines in 1927, only because women and children were sent there to safety for a short time during one of China's many revolutions. After a few months, her father, Malcolm Fisk Farley, came to retrieve Pat, her brother Curt and her mother and they returned to Fuzhou.
Following her parents footsteps, Pat attended Hamline University in St. Paul, MN, graduating in 1949 with degrees in English as a Second Language and Intercultural Studies. As she was fluent in both Fujo dialect and English, it was her plan to return to China to teach. Her plans were thwarted as Mao took over China and Americans were not welcome.
An attempt to teach instead in Beirut, Lebanon was also thwarted as the Palestinians and Lebanese were fighting. Panama is where she ended up, teaching both high school and college. It is also where Pat met here husband, Dwight, who was working as a project engineer for the USAF.
Pat did get back to China, first in 1979 with a group from NAU and four times after that. She and Dwight, once owners of Sedona Tours, took a group of 20 from this area, along with Pat's mother, on a month long tour of China in 1982. This was BEFORE the United States had diplomatic relations with China!
In 1987, Pat finally got to teach in China for three months. Her last trip was in 1995, when she also visited Tibet. This lady has a rich history AND a memory for delicious Chinese foods!
Favorite recipes from her childhood that came to Pat's mind include Sesame Seed Cookies and Oriental Style Fried Cauliflower. Both recipes call for candied ginger (large bags at New Frontiers.) Both are delicious and special and we want to share them with you.
Pat explained that the Chinese like to add just a little sugar to most of their dishes to bring out the flavor of other ingredients. She also said that saltiness is a matter of taste.
She uses both low sodium Kikkoman and Braggs sauce when cooking. There is quite a difference in sodium content, Braggs being less. Braggs is also gluten free.
ORIENTAL STYLE FRIED CAULIFLOWER -- 6 SERVINGS
3 slices of bacon (we used Boar's Head precooked), diced
1 medium to large head of cauliflower, cut in slices ¼-1/2 inch thick
fresh garlic, granulated garlic or garlic salt to taste
¼ Cup of diced candied or preserved ginger
2-3 teaspoons brown sugar
1-2 Tablespoons soy sauce
Brown bacon in a wok or fry pan. Add cauliflower and sprinkle it with garlic. Move it around until it is cooked slightly. Add ginger, brown sugar and soy sauce. Mix in well until heated. Do not overcook. Serve and enjoy a new taste sensation.
SESAME SEED COOKIES
makes 6-7 dozen
¼ Cup tea made with ¼ Cup boiling water over ¼ teaspoon black tea leaves; cool and strain
1 Cup solid shortening
1 ¾ Cup brown sugar
2 ¾ Cup flour
½ teaspoon baking soda
¼ teaspoon salt
1 teaspoon vanilla
¼ Cup candied ginger (chopped fine)
1 Cup white sesame seeds (bulk at New Frontier)
Make the tea. Cream shortening and sugar. Sift flour, soda and salt. Add dry ingredients alternately with the tea, mixing well. Add vanilla, ginger and sesame seeds. Chill dough in refrigerator overnight. If still too crumbly to make a ball, spritz with a little water. Shape into balls and place on ungreased cookie sheets. Flatten with spatula or the bottom of a glass. Bake 20 to 25 minutes at 350 degrees.
Pat and Dwight, it has been a pleasure to travel back in time with you as well as test and enjoy some delicious recipes. To all our readers, we wish you health and happiness. Jeff and Suzie at The Dunnery
More like this story