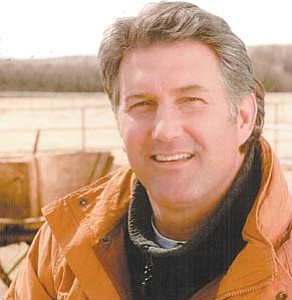 Originally Published: June 10, 2010 4:26 p.m.
PHOENIX -- A federal judge has blocked prosecutors from using what they learned from thousands of phone calls of then-Congressman Rick Renzi, potentially crippling the government's case against him.
In an often-stinging 25-page ruling, U.S. District Court Judge David Bury said federal agents illegally and repeatedly listened to calls between Renzi and Maria Baier, one of his attorneys. Bury said the monitoring continued even after it was clear that Baier, who now is the state land commissioner in the Brewer administration, was representing the congressman.
Beyond that, the judge said the government concealed some of what it was doing from the court that had authorized the wiretaps and failed to disclose other intercepted privileged communications.
Federal prosecutors admitted "mistakes were made' but argued that only the improperly recorded conversations should be suppressed. Bury, however, said the conduct of prosecutors requires all the evidence seized to be suppressed.
"The government conducted an unreasonable wholesale interception of calls they knew to be attorney-client communications,' Bury wrote. And he said calls with an attorney that were inadvertently intercepted were not identified as privileged and sealed.
"While this conduct was not outrageous, it was an unreasonable violation of Title III (the Federal Wiretap Act) and the Fourth Amendment,' the judge said. And that, he said, merits denying the government the use of anything they heard.
But Bury was unwilling to go the extra step sought by Renzi: Dismissal of the indictment or, at least, disqualifying the current crop of prosecutors from handling the case. He said there is no evidence prosecutors accessed privileged attorney-client materials gathered by federal agents, other than in three instances that the judge described as " "oh shoot' moments.'
Laura Sweeney, a spokeswoman for the U.S. Department of Justice, said her agency would not comment either on the ruling or how the suppression order will affect the ability to prosecute Renzi and two co-defendants, other than to say it will continue.
Calls to Renzi's attorneys were not returned.
Renzi was indicted two years ago on charges of extortion and other crimes after he allegedly used his position as a member of Congress -- and specifically the House Natural Resources Committee -- to engineer a land sale that ultimately would put money into his pocket.
The indictment also contends that Renzi, in the year before first being elected to Congress in 2002, embezzled more than $400,000 from clients of his insurance agency. Some of that cash, the charges state, ultimately was used for his successful campaign to represent Congressional District 1, which stretches from the state's northern border through Flagstaff and eastern Arizona down to the Pima-Pinal county line.
Renzi ultimately did not seek reelection after the indictment.
Much of the issue surrounds conversations Renzi had with Baier.
She was not initially identified as one of Renzi's lawyers. In fact, prosecutors told the court that Baier was an unlicensed law-trained political operative.
The result was 37 taped calls between Renzi and Baier.
But Bury said Baier had contacted then-U.S. Attorney Paul Charlton in 2006 to complain about one of Renzi's political opponents. And he said it was more than clear after the first day of the wiretaps that Baier was, in fact, an attorney representing Renzi.
The case involves the relationship between Renzi and James Sandlin, a Texas real estate investor and business associate.
The pair had jointly owned a piece of property in Kingman they were hoping to develop. In 2003, the indictment states, Sandlin took control, paying $200,000 to Renzi at the time and signing a promissory note for another $800,000.
At the beginning of 2005 there was still $700,000 unpaid.
That year, Resolution Copper sought to acquire federal land near Superior for mining. To get that, it would have to engineer a swap of other property the government wanted, a swap that would have to get congressional approval.
And all land trades go through the House Natural Resources Committee on which Renzi served.
The indictment says that Renzi directed company officials to purchase another piece of property Sandlin owned in Cochise County and include it in their land swap proposal. In fact, the indictment states, Renzi told the company "no Sandlin property, no bill.'
Renzi did not disclose his financial links to Sandlin to the company, the indictment states.
When that deal fell through, the indictment states Renzi then "insisted' the investment group purchase Sandlin's property "as part of its land exchange proposal' and told the group "it would receive a "free pass' through the House Natural Resources Committee, on which Renzi served.
The indictment states that Renzi filed a false 2006 financial disclosure statement, required of all members of Congress, failing to list either the outstanding debt from Sandlin or the $737,000 in payments.
It also details a series of transactions which allege that Renzi deliberately tried to cover his financial trail.
For example, it says, while Sandlin owed the money directly to Renzi, the payments were made through corporate entities. And it says Sandlin and Renzi "used the services of escrow companies to distribute the proceeds, making the transactions more difficult to trace for tax authorities, investigators and others.'
Sandlin faces 27 separate charges in the indictment. A call to his attorney was not returned.
The insurance charges stem from the year before Renzi was first elected.
The indictment says Renzi took money from clients for premiums but did not forward that cash to the insurance companies. The result was that these companies canceled coverage.
But Renzi, seeking to conceal what he had done, sent letters to the customers claiming that their coverage had been moved to another company. Those events also led to four charges filed against Andrew Beardall, a Virginia attorney who also served as president and general counsel of Renzi's insurance company.
More like this story