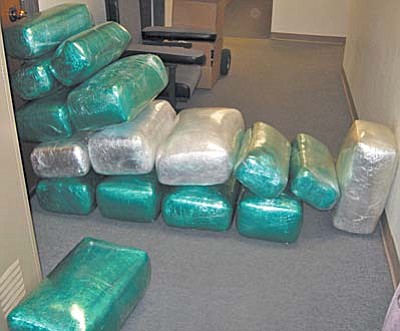 Originally Published: June 18, 2010 8:09 a.m.
INTERSTATE-17 -- A Yavapai Sheriff's deputy stopped a 2005 Dodge dually truck on Interstate-17 near Cordes Lakes Tuesday night.
The officer said that the truck had been following too closely and making an unsafe lane change.
The driver is deputy spotted that driver, 37-year-old Nigel Davis from Spring Valley, N.Y., was very nervous and that vehicle interior smelled heavily of several air fresheners.
Davis claimed he was buying the truck and gave contradictory versions about his travel plans.
Meanwhile, a Yavapai Sheriff's K9 deputy walked Aros around the truck and trained dog immediately alerted on the vehicle, indicating contraband.
Davis agreed to allow the officer to search the vehicle, saying the dog could have alerted since he had smoked marijuana the night before sitting on the truck's tailgate. Deputies noticed that the truck had an external fuel tank recently been installed. Aros was deployed again and alerted on this tank.
The truck was moved to a location so officers could make a closer inspection of the truck bed contents and the fuel tank and tool box. They removed a ladder rack to access the non-original tank shell and with the shell removed, deputies found an access panel on top of the converted fuel tank. With the panel removed, several bundles of marijuana were found inside. The weed had a total weight over 342 pounds.
Davis was arrested and booked into the Camp Verde jail for transportation of marijuana for sales and possession of drug paraphernalia. He is held pending a $300,000 bond.