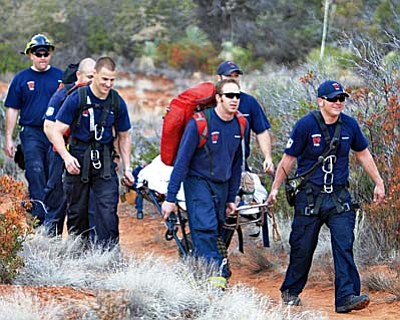 Originally Published: March 16, 2010 3:12 p.m.
SEDONA -The Sedona Fire District was called two separate for injured hikers at the Fay Canyon Trailhead this weekend, near the intersection of Boynton Canyon and Boynton Pass Roads north of Sedona.
The agency received the first call after 3:30 p.m., Saturday, for an injured hiker with a possible broken ankle. Once located, the patient was treated for injuries, extricated to an awaiting ground ambulance and transported to Verde Valley Medical Center. The call required five personnel and took approximately 1.5 hours.
The second call was after 2 p.m., on Sunday, for an injured hiker at the end of the trail halfway up the mountain. Emergency crews determined the hiker had a lower leg injury.
However, a steep angle, that needed to be covered to get the hiker back to the trail, contains a section of over-100 feet of near vertical rock face. Once safely on the trail, the patient was transported 1.5 miles to the trailhead and then placed in a awaiting ambulance and taken to Sedona Emergency Center.
This call required 10-personnel and took 4.5 hours to complete.