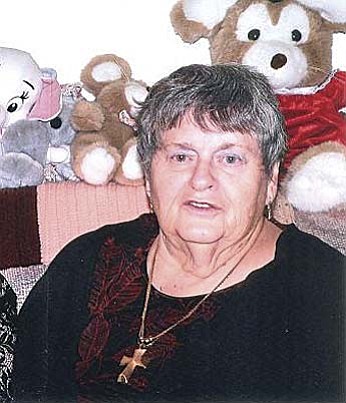 Originally Published: March 16, 2010 6:08 p.m.
Vonnie L. Bloodgood, 79, of Cottonwood, died Feb. 6. She was born Dec. 20, 1928, in Tucson, the daughter of Robey S. and Garnet (Daily) Medley.
She worked for JB Restaurant for 22 years as a prep cook in Flagstaff. She was a member of Immaculate Conception Catholic Church and loved humingbirds, cats, dogs, sewing and flower gardens.
She leaves her sons Jim (Mary) and Mike, all of Illinois; daughters Connie of Texas and Robbyn (Tom) of Virginia; a sister Carol Jean of Illinois; eight grandchildren and fourteen great-grandchildren. She is also survived by close friends Pam Diffin, Art Mendez and Sue and Dennis Black, all of Cottonwood.
A Memorial Mass will be held on Saturday, March 20 in the Immaculate Conception Catholic Church at 10:30 AM. A get together will follow at the American Legion, 480 S. Calvary Way, Cottonwood at noon.
An online guestbook is available at www.wwestcottfuneralhome.com
Information provided by family members.
More like this story