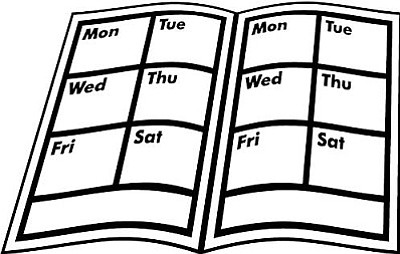 Originally Published: March 30, 2010 2:38 p.m.
Operation Prom is back
April 2-17
To help make that special night affordable, Operation Prom returns to Camp Verde this month. Headquartered in the Fort Verde Plaza, 348 S. Main St., Suite 9A, Operation Prom is open April 2, 3-5 p.m., April 3, 10 a.m.-2 p.m., April 9, 2-5 p.m., April 10, 10 a.m.-2 p.m., April 16, 3-5 p.m., and on the day of Prom, April 17 at 10 a.m.
There will be an assortment of dresses available and access to tuxedo rentals. Operation Prom Coordinator Susi Thompson is requesting monetary donations for the tux rentals. For more information, call (928) 300-3013 or e-mail plumeria_queen08@yahoo.com.
Denim & Lace Dinner & Auction
April 10
After a year's hiatus, the Denim & Lace Dinner returns to the Lodge at Cliff Castle, 5-10 p.m. This year's theme is "Joining Hands ... Leaving a Legacy." Cliff Castle Casino joins hands with the Camp Verde Library Endowment to sponsor the ninth Denim & Lace Dinner & Auction. This year's event features two of the best auctioneers in the Verde Valley: "Speed" Campbell, and Louis Rezzonico. Donated items for auction are now being accepted until April 5. For pickup and/or processing of you donated item, please call Ambie Charles (928) 567-3232 or Jim Ash 567-6362,
Windows SIG
April 2
The Windows Special Interest Group (SIG) will meet Friday at 4 p.m. The public is invited to attend this free meeting. Donations are accepted to help defray room cost.
Need help on any Windows platforms? Attend this Special Interest Group and see if they can help. Meetings are at the Clemenceau Building at Willard and Mingus in Cottonwood.
There are several different SIG's throughout the month. See the Web site www.vvcclub.com, select calendar.
LMPOA hosts spring concert
April 24
The annual spring concert in Rollins Park will highlight talented young singers and band musicians.
It will start at 1:30 p.m. with the Children's Chorus from the Beaver Creek School, followed by a band concert featuring the Rimrockers from the Rimrock Public High School. 
Bring a blanket or lawn chair and enjoy this annual event, sponsored by the Lake Montezuma Property Owners Association, which owns and operates Rollins Park in the square for the enjoyment of all community members.
Preschool screening at C-OC
April 14
The Cottonwood Oak-Creek School District offers free developmental screenings for preschool children between the ages of 3 to 5 years who live in the school district and are not already receiving special education services or enrolled in kindergarten.
The screenings are typically held on a monthly basis. The screenings will check a child's speech, motor, cognitive, adaptive and social development. 
For an appointment call (928) 634-6743.
The Arizona Early Intervention Program also offers developmental screenings for children age birth to 3 years.
For an appointment call 800-841-5201.
Vineyard Church hosts yard sale
April 17
There will be a big yard sale at the Vineyard Church, corner of Mingus Avenue and 89A in Cottonwood, from 8 a.m. to 2 p.m.
Look for the signs.
For more information, call (928) 634-2459.
Arizona Diamondback bus trips begin
April 5
Camp Verde Parks & Recreation is currently taking sign-ups for the opening game of the Arizona Diamondbacks verses the San Diego Padres at 2:10 p.m. Cost of the trip is $43 and includes bus ride, ticket and an all you can eat buffet of hot dogs, chips, popcorn, peanuts, soda and water.
Sign-ups are also taking place for the June 23 game against the New York Yankees. The cost of this game is also $43 and includes the all you can eat buffet. Seating is limited to 42, so get your reservation in early.
For additional information or to receive Parks & Recreations bus schedule to monthly games contact Lynda at 928-567-0535 ext. 136.
'Soft opening' for Cottonwood Rec Center
April 3
The City of Cottonwood is proud to announce soft opening dates at the brand new Cottonwood Recreation Center (in preparation of the Grand Opening Ribbon Cutting scheduled for May 1). The facility will be open each Saturday in April from 8 a.m. to 6 p.m. The public will be able to tour the facility, use the fitness/strength equipment, the climbing wall and the indoor leisure pool at no charge.
The Cottonwood Recreation Center is located at 150 S. Sixth St. and is accessible off of Brian Mickelsen Parkway behind the Cottonwood Library. Tours of the facility are still available Tuesdays through Thursdays at 8:30 a.m., 1 p.m. and 3 p.m. Please call the Cottonwood Parks and Recreation office at (928) 639-3200 for more information to be placed on the tour schedule.
Semi-Annual Verde Valley Golf League
April 21
The Cottonwood Parks and Recreation Department along with Verde Santa Fe and Pine Shadows Golf Clubs invite you to participate in the Semi-Annual Verde Valley Golf League. Register by Wednesday, April 21. Matches will be every Friday from April 23 through May 28. Fees are $17 per person at Verde Santa Fe and $15 per person at Pine Shadows, per nine holes including a cart. Teams will be made up of four players with up to two more players being used as alternates. Each week only four player's golf scores will be recorded for an official weekly score. A variety of games such as best ball, scramble, stroke play and alternate shot will be incorporated weekly. All teams will tee off at 4 p.m. in a shotgun start. So, whether you're Tiger Woods or you play in the woods this league will be a great social experience. First place team will receive a free round of golf from each golf club. To register or for more information, contact Ryan Bigelow at 639-3200, ext. 13, or e-mail rbigelow@cottonwoodaz.gov.
More like this story