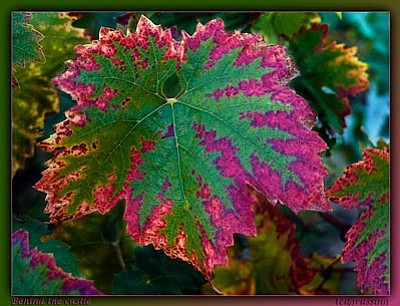 Originally Published: November 1, 2010 12:28 a.m.
I was going to do another Q image tonight, but he did get a trick or treater or two ... the mess was such that I didn't dare send out shots of the carnage that resulted from visitors coming to his castle door tonight, He is a friendly little guy and always invites his guests in to play before lunch or dinner; but then they become lunch or dinner. Didn't get done with the cleanup until late so am skipping the Q photos for tonight,
Behind the castle there were some very beautiful leaves still on trees and hope you enjoy them too. The foundation shot that featured Q last night was taken at Castello Di Amorosa Winery in Napa Valley when I was up there last year. I love places like that because I get shots that I can use for composites for a long time to come. Next scheduled trip to visit Northern California will be in February 2011 and will also be doing more aquarium shots then too. Please check out the winery website at: http://www.castellodiamorosa.com/ ; have to plug someone who creates such a beautiful shooting opportunity for me. The leaves? Haven't a clue as to what the tree is but like it anyway.
I decided to do shorter respite breaks and do them more frequently; so first one will be to Minneapolis to visit my brothers and other family members and friends next week. With any kind of luck I'll have some sunshine this year and get some nice shots as well as having fun.
It's Monday ... have a terrific day as we get another week off and running.
Cheers from Corky and Q too.
Ted
More like this story