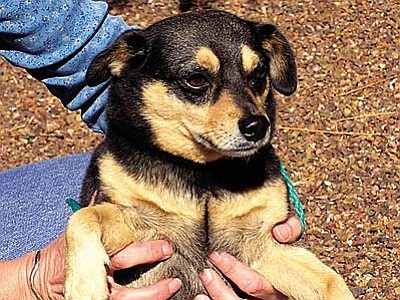 Originally Published: November 4, 2010 12:48 p.m.
Can you believe how quickly we have moved into the month of November? The days just seem to fly by in the world of animals.
We all know that the holidays are just around the corner. The Black Friday advertisements are already all over the Internet.
What happened to getting the newspaper right at Thanksgiving and being surprised at what was going to be on sale?
Each year after Thanksgiving dinner we gather all of our children around the table. We give them ads from all of the stores and enjoy watching them write their Christmas list to Santa.
The older kids roll their eyes as we give our little talk, but in return they gladly write their list. No list means you are getting underwear and socks.
Our list for the animals here at the shelters has already been written and I will put it in at the end of today's Pet Corner.
Many of you have called for the list and have started to bring in the items that we need so desperately.
Once again this year we will be putting the donations under our Christmas tree in the front office. We are keeping back what has already been delivered.
This year we will be able to have a normal sized tree without space limitations. The donations won't be blocking the office and you will be able to get through the door safely. I have to admit it was kind of fun trying to see how high we could pile things.
All of you are so thoughtful and caring when it comes to the animals during the holiday season. We all thank you from the bottom of our hearts.
Q: Why do you have animals up for adoption in both centers? I thought the old facility was to be used just as a holding area for animals waiting to be released for adoption.
A: We have animals in both buildings waiting to be adopted due to the fact that we are constantly at max capacity. If you have visited recently, I am sure that you noticed our great variety of animals waiting for new homes.
Q: Will you be doing photographs again this year with our animals and Santa?
A: Absolutely! Keep watching the Verde Independent for a date and time. The photos will be taken at our new facility this year. There will be fun and refreshments for all.
Q: Are your By-Laws going to be posted on your website?
A: As always they are available for public viewing in our office. Putting them on a website was something we didn't see done by other shelters so we decided to keep with our original system.
Q: Do you spay/neuter at your facility?
A: This question comes to us very often. We do not spay/neuter here because we do not have a vet on staff. That is part of our dream and I hope to be able to someday say," Yes would you like an appointment?"
Q: How often do you have the Plateauland Mobile Clinic come down to do a low cost clinic?
A: As often as they can fit us in their schedule. We have asked to be put on the schedule as often as possible. I will let everyone know as soon as they can fit VVHS in their rounds. I was told that they received a grant that would allow them to work mobile clinics for three more months.
Q: Does VVHS give vaccinations to animals belonging to the public?
A: We unfortunately cannot offer this service to the public. We vaccinate the VVHS animals but the public has to go to a vet's office. That's another service we hope to someday offer you.
Q: When Colleen Freemon passed away the idea was to plant a tree in her memory. Are you still going to do that? Were you just waiting for fall planting?
A: After consulting with the contractor we found that the places that were available for planting were none that we wanted. We wanted a place of honor such as up by the front door. The decision has been made to purchase dog bed risers. Colleen loved all animals but dogs were her weakness. You will see these new beds in place very soon. All will be in memory of our very special Colleen who is missed terribly by all of us.
Q: I donate to the Humane Society of the United States; do you get your share of the money?
A: This question comes to me very often. The answer is no. That money goes to them and they use it to take care of their own entity. The money is not shared with other shelters.
Q: Why are there on 16 kennels in the new facility? You obviously need more.
A: Unfortunately this building is only the first half of the entire facility. The second half is primarily dog kennels. We do the best we can with what we have at the present time. As you will see, both buildings are at max capacity. We are fortunate that it was designed the way it was so we could at least open and help 16 more dogs and of course the cats. The rest of the facility will cost approximately another $950,000.
Q: Why don't we stay open later?
A: Financially we aren't able to at this time. We only have five kennel techs that begin work at 7:15 a.m. each day. We would have to hire more employees in order for the existing employees to even have a day off. We are in the building seven days a week. We are working on this issue.
Q: Why does it cost so much to adopt an animal?
A: If you break down the charges it is really inexpensive to adopt from shelters everywhere. We don't have a vet on staff, which makes ours a little bit more costly. Our total adoption price is less than it would cost you to get the same animal spayed/neutered in a vet's office. Our animals come with the spay/neuter, current vaccines, rabies vaccine, micro-chip, free vet visit and the dogs get a license. Verde Vet Hospital gives the adopter a price break when they adopt from us. In ten years our price has only gone up minimal two times, which we are very proud to be able to say.
That's the questions and answers for today. I will print more in the month to come. If you have questions please bring them in. I will be happy to get you an answer.
As for our holiday wish list for the animals, it basically is the same all year. We love the hidden surprises that you all tuck in for the animals waiting for adoptions. Stockings are so cute hung on the cages. Yes they do go home with the lucky animals gets his or her "forever home."
• Non clumping kitty litter
• Puppy food
• Kitten food
• Toys for cats
• Toys for dogs
• Chewies for the dogs, it keeps them so happy
• Kong toys for the dogs. Filled with treats keeps the dogs so busy and makes the days shorter.
• Balls with bells in them for the cats
• Catnip items
• Bleach
• Paper towels
• Toilet paper
• Dish soap
• Laundry detergent
• Fabric softener sheets
• Older towels
• Blankets
• Gift certificates at local merchants
• Leashes, collars and assorted sweaters
Anything you wish to donate will be used keeping your thoughtfulness in mind. We appreciate anything you bring in and so will the animals.
More like this story