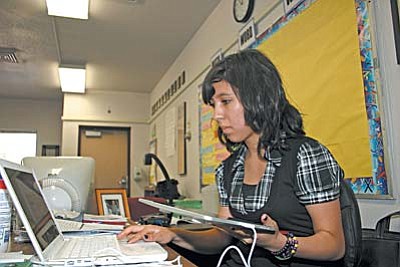 Originally Published: October 11, 2010 7:49 a.m.
COTTONWOOD - Thanks to a $480,000 21st Century Classroom Grant, 15 classrooms in the Cottonwood-Oak Creek School District have taken a big step forward in integrating technology into the classroom.
Kathy Epperson, district technology integration coach, said fourth graders at Cottonwood Elementary and second graders at Tavasci Elementary schools now have Netbooks in their classrooms. All seventh-graders and half of the eighth graders at Cottonwood Middle School have iPads in their classrooms. In all 15 classrooms the ratio of the new devices to students is one-to-one.
Epperson said the grant also provides a lot of technological support for the teachers in those classrooms. "A lot of professional development for staff," she said.
All 15 teachers attended an Intel class on using technology for "real world problem solving." In addition, teachers will attend Saturday mini-conferences, and they will be part of an ongoing technology academy once each month. The district has four Intel Master Teachers who will provide training in partnership with a Yavapai County Technology Integration Specialist.
Each of the 15 classrooms also has digital cameras for videos and still photographs for doing podcast mini files. The audio and video capabilities allow students to make live presentations, and all 15 classrooms also have new amplification systems to go along with the new technology.
The district was one of 12 districts in Arizona to receive the grant administered through the Arizona Department of Education. C-OC was the only district in Northern Arizona to receive one of the grants.
According to Keith Steele, district science manager, additional training from Intel will help teachers catch up to where their students are in technology. Included in the Intel Teach program are online lessons to promote a higher level of thinking.
Intel's focus, according to Steele, is interdisciplinary, so students learn several subjects at once, such as math, science and reading using technology.
More like this story