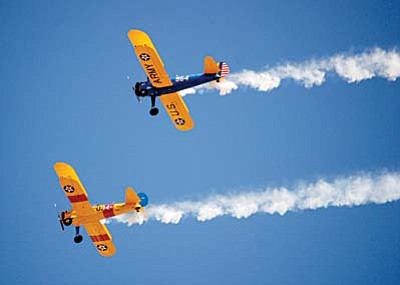 Originally Published: October 14, 2010 3:34 p.m.
COTTONWOOD -- If you missed Airport Appreciation Day last year, you heard it or heard about it. This year, the name is tweaked, but the Cottonwood Airport's Airfest 2010 event is bigger and better. It all takes place at the Cottonwood Airport, from daybreak to 3 p.m. Saturday Oct. 16.
There will be airplanes in the sky all day long and plenty to do at the on the ground.
Airfest 2010 brings back all the excitement, thrill and fun of flying with classic air machines and airplane rides. This year, the airport honors Glory Days of the World War II airmen and women from "Rosie the Riverters" to gunners, bombardiers, weathermen, mechanics and Aces. A VFW honor guard to help pay tribute. WWII air veterans get free admission at the gate.
Bring your camera. There will be plenty of aircraft from bi-planes, P-34, and North American AT-6 and T-28 fighter, a Nanching Chinese trainer, Czechoslovakian L-39, and L-4 Grasshopper, Globe Swift, PT-22, a flight of Stearman biplanes and many other last-minute surprises.
Hot Air Balloons always capture the imagination. There will be a lot more balloons this year. Liftoff starts with daybreak at 7 a.m.
Hang gliders will soar out of the sky effortlessly, landing at the field about 1 p.m.
For those who want to stay on the ground, a classic car show will also have many collector treats. Register your ride with Frank Hoene at 634-8046. The car show is underway after 8 a.m.
Get to the Cottonwood Airport early to enjoy all the activities. There will be food and drink for refreshments. If you would rather fill up, then a Pancake Breakfast will be served, dripping with melting butter and syrup. It's a deal. $5 per individual, but $10 for the whole family.
Bring your hunger, Breakfast will be served from 7 a.m. until 9 a.m. and then Rhythm & Ribs Grand Champion Hog Wild BBQ takes over.
This year, a wine tasting tent will also be serving
There will be displays and exhibitions by the WW2 Project from Sedona, the Military Heritage Museum, Civil Air Patrol, the Ninety-Nines women pilots, Embry-Riddle Aeronautical University, EAA, Connection Concepts, Costco, Barnstormers, Hawaii Shave Ice, Golden Cobra, Yavapai Broadcasting, City of Cottonwood, Cottonwood Chamber of Commerce, Big Brothers/ Big Sisters, Country Bank, Larry Green, Valley Academy and Send Out Cards.
Don't miss the fun and airplane noise.
Admission is $3, children under 12 are free.
For information, call Airport Manager Tim Costello at 928-634-8033 or Jim Money at 928-649-2255
• 6 a.m. -- Gates Open
• 7-8 a.m. -- Show planes arrive
• 7 a.m. -- Balloon Launch
• 7 a.m. -- Pancake Breakfast begins
• 10 a.m. -- Ceremony to honor WW2 airmen and woman
• 11 a.m. to noon -- WWII re-enactor maneuvers
• 1 p.m. -- Hang gliders land
More like this story