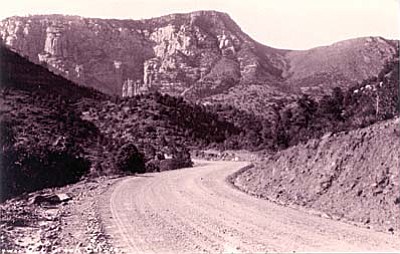 Originally Published: October 25, 2010 2:05 p.m.
As you drive north on Midgely Bridge into Oak Creek Canyon, heading to Flagstaff, you pass over Wilson Canyon and alongside Wilson Mountain.
Did you ever wonder who "Wilson" was? Well, that was Richard Wilson, and you might say he suffered from a failing the ancient Greeks called "hubris" ... excessive pride.
He thought he could handle anything the mountains could throw at him, especially bears. And he paid the ultimate price.
Richard Wilson was born and raised in Arkansas -- folks weren't quite sure when, but he was "old" when he was hired by Jim Thompson in 1884 to help farm the Thompson claim in Oak Creek Canyon.
Thompson had built another cabin down canyon, near what would become the Sedona Art Barn, to house his wife and children until he finished the cabin up in Indian Gardens.
In June of 1885, Jim had some business in Prescott, and was concerned about leaving his family alone while he gone.
Dick Wilson agreed to come down from Indian Gardens every night to watch over the Thompson family.
He was excited about seeing the tracks of a "monstrous grizzly bear" between Indian Gardens and Camp Garden (now Sedona).
He intended to get that grizzly as soon as his bear gun was repaired. He had only a small caliber rifle.
Wilson's intentions were good, but he was like an old war horse. He had bear hunting in his blood.
The very first evening Thompson left for Prescott Wilson failed to appear at the Thompson cabin, as he failed to appear for the next seven days.
Maggie Thompson had babies and couldn't go looking for him. On the ninth day, friends of the Thompsons came by on their way up the canyon to do some fishing.
Maggie voiced her concerns about Wilson. Sure enough, Maggie's instincts were right. They found the old bear hunter's battered body a short way up the canyon, near the present location of Midgley Bridge.
At the inquest, they pieced out the story of what happened. Wilson had quit work early enough to get down to the Thompson cabin.
He was on his way when he caught sight of the "old grizzly" and could not resist the temptation to get that bear.
Despite the fact that he had only the small caliber rifle, he had no fear of it.
He shot and wounded the bear. Wilson then foolishly followed it up canyon where the bear turned and charged him.
Wilson ran for a tree, starting to climb it. The bear caught him by the foot and pulled him down.
The bear then either bit off part of Wilson's face or knocked it off with his paw, and then left. Wilson crawled to water puddle where he fainted face down in the puddle and drowned.
Fifteen years later, young Frank Thompson found the skeleton of a monstrous large bear near the top of what is now called Wilson Mountain.
Folks agreed that indeed Richard Wilson had killed the bear even after the bear killed him.
Look to the west as you drive over Midgley Bridge and think a kind thought for the old grizzly hunter.