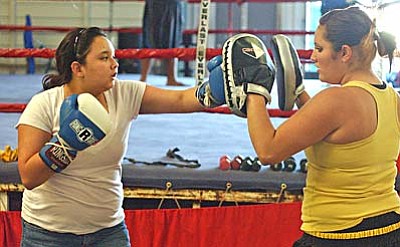 Originally Published: September 14, 2010 2:31 p.m.
COTTONWOOD-Golden Cobra hosts Fit Kids every Monday to train them like they're preparing for a boxing match.
According to their website, Fit Kids of Arizona at Northern Arizona Healthcare is a program "committed to the assessment and treatment of children who are overweight or obese," with a mission to "reduce the health consequences of childhood obesity by promoting healthy lifestyles."
Bridget Taddonio is the Exercise Physiologist of the Fit Kids program.
"We workout at Golden Cobra and we also run a childhood obesity clinic Tuesday through Thursday. The kids come in and we do fitness testing and body composition testing and exercise counseling and we set up exercise regiments for the kids. They also see a dietitian, a behavioral specialist, and a nurse practitioner. It's a team approach center and we hit childhood obesity from every angle and work as a team to help each family," Taddonio said. "Working with the kids has been super rewarding. Even if they don't show weight loss, almost all of them become more active and once they're in the program they learn more about what health is and how to eat healthy, and they gain more knowledge about how to implement healthier lifestyle choices."
When Golden Cobra Head Trainer and President Richard Williams heard about the Fit Kids program he saw it as an opportunity to give back.
"I read an article about the Fit Kids program in the paper and their mission statement is similar to ours. We're both here to help kids," Williams said. "The community gives back to me and our gym, so helping the Fit Kids is our way of giving back to the community. They come in here every Monday and we don't charge them anything. My kids help them and it's good for everybody. My kids get to mentor other kids. My boxers get to help other kids, who might never be in a boxing match, but at least they get to step in the ring, and smile, and put on the gloves. I really think it's working out well. They've been here since June. I think it's great for both programs."
Childhood obesity is a big problem in America and battling the trend is one of First Lady Michelle Obama's priorities. Taddonio said the problem is even more present in Cottonwood.
"As a whole, about 30 percent of American children are obese. What we found in Cottonwood is about 42 percent are overweight or obese, so we actually have more of a problem with childhood obesity in Cottonwood than the rest of the country. It's a huge problem for the country and it's an even bigger problem locally. We're lucky to have the clinic in this area where it's really needed," Taddonio said. "The kids have to be referred to our program by their primary physician and in order to qualify you have to be at or above the eighty-fifth percentile for BMI or Body Mass Index for your age. All the physicians in Northern Arizona know about us, so if parents ask their doctor about the program they'll know about the program. We've received referrals for over 550 kids in Northern Arizona and we're currently seeing about 78 of those kids on a regular basis in Cottonwood, and in Flagstaff they see about 220. It's a big issue."
Golden Cobra fighters like helping the Fit Kids train and shed pounds for several reasons. Some of the fighters were obese before they joined the gym too.
"When I came to live with my dad last year over the summer I weighed almost 300 pounds. Now I weigh 175," 15-year-old R.J. Bentley said. "It's pretty cool to help out with the Fit Kids. It's sad because they're so young, but I was just like them. I started gaining a lot of weight after my parents' divorce when I was like 10. It feels good to help them and hopefully change their lives like my dad did for me."
For Bentley, the transformation was life changing.
"My life changed a lot. Before I could barely run. I'd do anything and I'd be out of breath, but now I can run quite a bit and I can do things that I couldn't before," Bentley said.
Bentley had his first Muay Thai fight when a big event was held at Players a few months ago. He's scheduled to fight the same guy in a rematch, but this time the fight will be in Las Vegas.
Bentley feels he'll have a much better fight this time around.
"I just have to work harder. The Player's fight was my first fight, but now I know what I need to work on. I need to throw more kicks. The last fight I worked mostly from the clinch," said Bentley.
Richard Williams is proud of his Muay Thai fighter.
"I think it's pretty cool it's only his second fight and he's fighting in a big venue--over 1000 people in Las Vegas," Head Trainer Richard Williams said. "I think it's an honor for him just to be invited to fight at a place like that. I mean, it's his second fight and he's fighting in Vegas! I've never even fought in Vegas!"
Bentley's story is surely and inspiration to the Fit Kids.
Micah Gadsden is one of the Fit Kids who has been working out at Golden Cobra for about four months.
"I'm marinating, which means I'm keeping my normal weight that I've been, so I'm trying to maintain. My goal is to lose the weight that I've gained and to get a few feet taller," said Gadsden. "I think it's great. It's very fun and it can help kids learn more about self-defense. It's fun because it helps people stay in shape."
Another Fit Kid, Evan Strobel has lost about four pounds since he joined the program.
"I've been involved in the program for about two months. It helped me lose weight by exercising and a bunch of other stuff. I think I've lost about four pounds. My favorite thing to do [at Golden Cobra] is box," Strobel said.
Boxer Jesse Duran worked with Strobel on Monday.
"It's been great to help the Fit Kids. You see these kids come in and they're overweight, but they come in here and they're working out and they're liking it. They come back for more. At first some kids don't know what they're doing, but we help them out and show them what to do," Duran said.
Duran has a slim figure--he looks like one of those people who never had a weight problem, but he says that's not true.
"Before I came in here I weighed 150 or 160--I was overweight for my age. I got in here at 14-years-old and lost 40 pounds. I was down to 120. I'm in shape and I love how I feel now," Duran said.
Genoa Altamirano also feels a difference in her energy level since she joined Golden Cobra.
"I've lost about 30 pounds since I started. You just get more in shape, more muscle, and it's really fun being here. You feel better, you have more energy everyday and you sleep better after working out so hard. Plus you fell better about yourself after losing weight," said Altamirano. "I've been working with the Fit Kids ever since they've been coming to the gym. I love helping them because they've improved a lot since the first day they've been here. They're a lot more in shape and they're better at staying in their workouts than they were before. They've been losing a lot of weight, and we give them fruits and vegetables every week and it helps."
Every week Williams gives the Fit Kids and inspirational quote on the dry-erase board before the workout. This week the quote was, "I CAN is 100 times more important than IQ." Williams also gives the kids a healthy food at the end of each workout and he tells them the nutritional value of each snack.
Health education is an element Fit Kids tries to impart on the kids, but Taddonio said educating the children isn't the hardest part about her job.
"I think the biggest problem has been getting across to the families that it has to be an entire family unit change--it's not all about the kids. You have to change the entire family unit in order to get results for the kid," Taddonio said.
The Fit Kids program is organizing a fun run this November.
"We have a Fit Kids run coming up on November 6 at Riverfront Park. It's called the Fit Kids 5K Fun Run. It's open to the whole community. Fit Kids is a health initiative and it was made to implement healthier lifestyles in the whole community. The run is $5 for anyone 18 and under to enter and $10 for anyone 19 and older to enter. You can go to www.virtualroster.com to sign up," Taddonio said.
More like this story