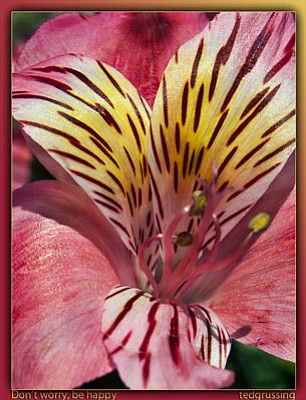 Originally Published: September 29, 2010 10:43 p.m.
2011 calendars are nearing completion; a slight revision in the text on a couple of images and the Q and friends 2011 will go to final print. I dropped a number of the calendars off at the Humane Society of Sedona and if you wish to pick one up there that would be a good place to get it. Who knows, you might even be tempted to see Little Girl or Maggie and take them home with you. They star in the calendar and this would be a neat way to remember your first meeting with them. Do buy one of these calendars as at least $5.00 per calendar is going to the Humane Society, but on the first 25 calendars sold the entire sale price will be donated; thereafter $5.00 or the gross margin, whichever is greater.
The Sedona Pathways 2011 calendar now has nine of the thirteen images finished and will have the last four done before noon today; uploaded and samples ordered. I'll also have the images for the pathways calendar up on our website by early afternoon and change out most of the other images on the website too. We're averaging about 500 hits a day on the website now so want to keep fresh photos in the galleries. If you haven't been there yet, check it out at http://tedandcorky.com
I'm still trying to decide if I want to invest the time to do a floral calendar this year and in case I do I have begun parking photos in a folder for it. Flowers are one of my favorite subjects; while there is a lot of beauty in just walking by a bed of flowers and enjoying the colors and aroma, when you look deep down into them there is a wonderful world of color, design and peace. Anyhow, I am thinking about it and if there is a good demand for one, I'll complete the project.
Later this week the http://tedgrussing.com website will finally be revised and finished and the galleries will be populated. One of those projects that has just hung out there and nagged me.
The photo contest begins on Friday and the photos will be on display at Jay's Bird Barn in the back of the store. There should be a lot of great photos up so it will be worth your time to visit the store ... and vote for mine!
The photo tonight is from a bouquet that some friends brought over last week ... thanks Andre and BakeR.
have a wonderful Wednesday and take the time to discover the beauty within a flower or two ... and another human being too.
Cheers
Ted
(the unreformed one)
More like this story