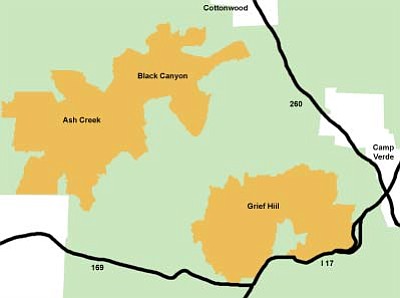 Originally Published: September 30, 2010 2:52 p.m.
VERDE VALLEY - After considering a list of 29 qualifying areas within the Prescott National Forest for wilderness designation, the Forest Service has announced that 21 are still in consideration.
According to Forest Planner Sally Hess Samuelson, one of those still in consideration is a nearly 10,000-acre parcel overlooking Cottonwood, tentatively designated as the Black Canyon Wilderness Area.
Also being considered are three parcels totaling just over 18,000 acres that would add to the existing Pine Mountain Wilderness, two parcels totaling 2,500 acres that would add to the Cedar Bench Wilderness and a 1,500 acre addition to the Woodchute Wilderness.
There are also two proposed wilderness areas still in consideration that would top out along the Verde Rim, the 21,000-acre Arnold Mesa Wilderness behind Squaw Peak and the 16,000-acre Ash Creek Wilderness that would butt up to Black Canyon's southeast border atop Mingus Mountain.
The selection of suitable wilderness areas is part of the Prescott National Forest's, Forest Plan revision process.
As part of that process, forest planners look for suitable areas by first creating a list of areas within the forest that meet basic criteria including a general lack of roads and a minimal size of 5,000 acres.
"Because our road density is considerably less than other national forests, we end up with quite a few areas that meet the criteria," says Hess-Samuelson.
Step two of the process considers three factors, including the capability, availability and need for the designation.
It was during the capability assessment that the forest eliminated a proposed 16,500-acre area, south of State Route 260 and west of Interstate 17 that included Grief Hill.
"Grief Hill was screened out during the capability analysis, primarily because of its juxtaposition to Interstate 17. It nearly borders the highway," Hess-Samuelson says.
More of the proposed areas may be screened out during the availability and needs analysis portion of the process.
However, anyone can comment on the proposed areas at anytime during the process, according to Hess-Samuelson.
"The public can provide comments supporting or opposing designation. What is also helpful to us is to share information from anyone who knows of structures or facilities within the proposed areas. Sometimes ranchers and others know more about the area than we do," she says.
To view a map of the proposed areas or make comments, visit the PNF website, www.fs.fed.us/r3/prescott.
Comments can also be submitted by mail to Prescott National forest, Attn: Plan Revision, 344 S. Cortez, Prescott AZ, 86301. You can also call 928-443-8216.
Hess says they hope to have make recommendations for potential wilderness areas by November.
Final wilderness designation requires an act of Congress.
More like this story