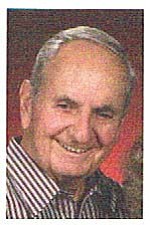 Originally Published: April 23, 2011 12:58 p.m.
Albert William "Bill" Larson, 83, of Lake Montezuma died April 21. He was born August 1, 1927 in Chicago, Illinois, the son of Clarence Albin and Helen (Schmaide) Larson.
He was a graduate of Wheaton Academy and also a 1952 graduate of Northern Illinois University with a degree in science.
A Navy veteran of World War II, her served in submarine service.
He retired as the personnel director for the city of Los Angeles Parks and Recreation Department.
Mr. Larson had been a board member of the Montezuma-Rimrock Fire Department; a member of the Yavapai County Merit System Board and a prior member of the Lake Montezuma Property Owners Association.
He enjoyed travelling and fishing.
Mr. Larson leaves his wife, Judith A. Larson; sons Bill and Eric in California, David in Phoenix; stepson Tim in California; stepdaughters Terry in Utah, Tamara and Tracy, both of California; a brother Paul Larson in Illinois; a sister Joann Thomas of California; seventeen grandchildren and five great-grandchildren.
Two daughters, Jane Marie and Elizabeth Ann, and two brothers, preceded him in death.
A memorial service will be held in the morning of Saturday May 7 at the Camp Verde United Methodist Church in Camp Verde.
Donations in his memory may be made to the Camp Verde United Methodist Church, P O Box 1245, Camp Verde, AZ 86322.
An online guestbook is available at www.westcottfuneralhome.com.
Information provided by survivors
More like this story