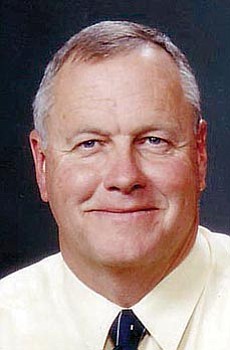 Originally Published: August 4, 2011 5:26 p.m.
COTTONWOOD - In response to a new state law, HB2219, a Joint Legislative Study Committee on School District Unification and Consolidation has been formed. The committee will study issues related to unification and consolidation of existing school districts. The committee also will develop legislation for the next legislative session.
The idea is to come up with legislation that provides a regionally or locally developed process that would allow school district governing boards to develop their own unification or consolidation plan.
Area school districts have two representatives on the committee to ensure that local issues are heard and considered. Yavapai County School Superintendent, Tim Carter, and Cottonwood-Oak Creek School District Director of Business Services, David Snyder, are both on the committee.
The committee met for the first time July 27.
In an update email the day of the meeting, Snyder said the committee will meet four more times over the next four months, with the goal of delivering a summary report to the legislature by Dec. 31.
"The meeting today was mostly organizational," Snyder said, "with conversations covering several subjects such as advantages of curriculum coordination, possible financial incentives to districts wishing to unify or consolidate, and the role of county superintendents in providing information about unification framework or coordinating shared services."
The day of the meeting, Carter sent an email to Yavapai County educational leaders and school superintendents. Carter said he had met with Rep. John Fillmore, who wrote the legislation, and believes that Fillmore really wants to find consensus on the issue of unification and consolidation.
Carter said that he hopes local voices either in support of or opposition to what is being discussed and the ultimate consensus will be "heard loud and clear."
He asked local educators to please keep an eye on the process. "Your active engagement will be important," he said.
The committee comprises: Co-Chairs Sen. Rich Crandall, R-Dist. 19; Rep. Doris Goodale, R-Dist. 3; members at large Rep. John Fillmore, R-Dist. 23; Rep. Ruben Gallego, D-Dist. 16; and Sen. Steve Smith, R-Dist. 23. The business community is represented on the committee by Bob Martin, Patrick Sinnott and Sen. Olivia Cajero Bedford, D-Dist. 27.
In addition to Carter and Snyder, the committee includes five other school district representatives and one other county superintendent.