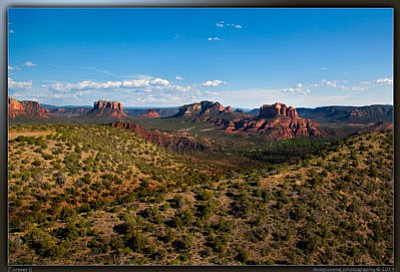 Originally Published: August 25, 2011 12:49 a.m.
... and so the vistas of the southwest seem to go on forever. I took this shot a couple of days ago when I was on the helicopter and headed out to the canyon areas southwest of Sedona, and had the unique vantage of only being a hundred or so feet above ground. Normally I am at least five hundred feet above ground at this point in the flight and am far too busy to concentrate on getting shots of the area so this was a real treat for me. The view is looking to the SE from a few hundred yards west of the runway. You can see the runway just above center on the right side of the photo. From the left working right you have Lees Mountain, Courthouse Butte, Bell Rock, Castle Rock and Cathedral Rock. The ridge line in the foreground is the same one that Guy had in his photo of the rainbow in the monsoon storm on Monday. Below Cathedral Rock you can see the more intense and brighter green and that is where Oak Creek passes by on its way to empty into the Verde River between Cottonwood and Camp Verde. The Village of Oak Creek where Corky and I live is behind Castle Rock (just to the right of Bell Rock) 3.8 nautical miles away. Anyhow it is just one of those vistas that you can kick back and spend hours looking at.
I am also now posting these missives and photos on my blog which can be accessed through a link on either of our websites: http://tedandcorky.com or http://tedgrussing.com . Still have a long way to go in learning how to use the program and am worried that I may eventually have to read some instructions on the program. I shall hang in there and resist the urge ... unless I really get stuck.
We're over the hump and heading towards the weekend; on a larger scale life is continuing and we are privileged to enjoy each day and I'm never in much of a hurry to see a day end. Actually it doesn't end, just another limitation and definition we have given to our existence ... the countdown ... to what?
Enjoy the day and remember the phrase reputedly authored by Anne Herbert which goes "Practice random acts of kindness and senseless acts of beauty", or simply enjoy your life and help others do the same.
Cheers
Ted
But from the brooding beauty of the night, and daily dancing shafts of golden sun ...
The mystery and wonder of the world ... that play the soundless music of the soul
And fill the heart with memory's olden dreams ... From these will come at last your faith in God.
Max Ehrmann
More like this story