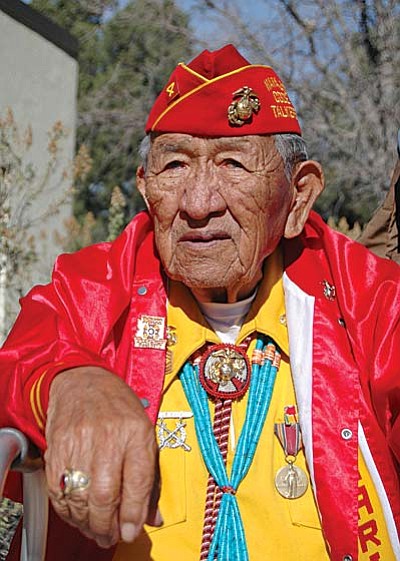 Originally Published: August 30, 2011 1:16 p.m.
COTTONWOOD -- The Navajo Code Talkers were young servicemen who transmitted secret messages on the battlefields of WWII.  Serving with distinction in every major engagement of the Pacific Theatre from 1942-1945, their unbreakable code played a pivotal role in saving countless lives and hastening the end of the war.
One code talker will speak to the public at the Cottonwood Verde Baptist Church, Sept. 15, at 6:30 p.m.
In early months of WWII, Japanese intelligence experts broke many US-devised codes and were able to anticipate American actions. With many fluent English speakers, they sabotaged messages and issued false commands to ambush allied troops.  In order to derail this code breaking, increasingly complex codes were initiated.  At Guadalcanal, military leaders complained sending and receiving these codes required hours of encryption and decryption, as much as two and a half hours for a single message.
The Navajo language became the solution to this problem.
Dan Akee served with the 25th Marine Regiment, 4th Marine Division from 1943-1945 as a Navajo Code Talker.  Sergeant Major Dan Akee also served at Iwo Jima, Saipan and Tinan, Marshall Islands.
Akee was born on the Navajo Reservation in Old Coal Canyon, Ariz., and was sent to a boarding school in Tuba City from age 6.  In 1943, he learned that the military was recruiting Navajos, but he couldn't pass the physical.  Two years later, he passed, and became a member of the Code Talker team attached to the 4th Marine Division.  
During battle, Akee was often on the front lines, receiving communication for his regiment.  Especially at Iwo Jima, he lost many of his regiment and friends. Some years ago, the Retired Sergeant Major received the Congressional Silver Medal of Honor for his service.
Dan Akee and his wife have 12 children.  As of 2011, Sergeant Major Dan Akee and his wife had 73 grandchildren.
What: Navajo Code Talker speaks
Where: Verde Baptist Church
When: Sept. 15, 6:30 p.m.
How Much: Free
More like this story